It actually took me a while to finally find the throttle nub on the Razer Artemis. I have looked at it a few times over the last week and finally went back to look at a picture tonight asking myself, "How could they have not included a throttle on a MechWarrior-specific controller?..."
And there it was, nubbing at me.
It's a little easier to see in the line art version...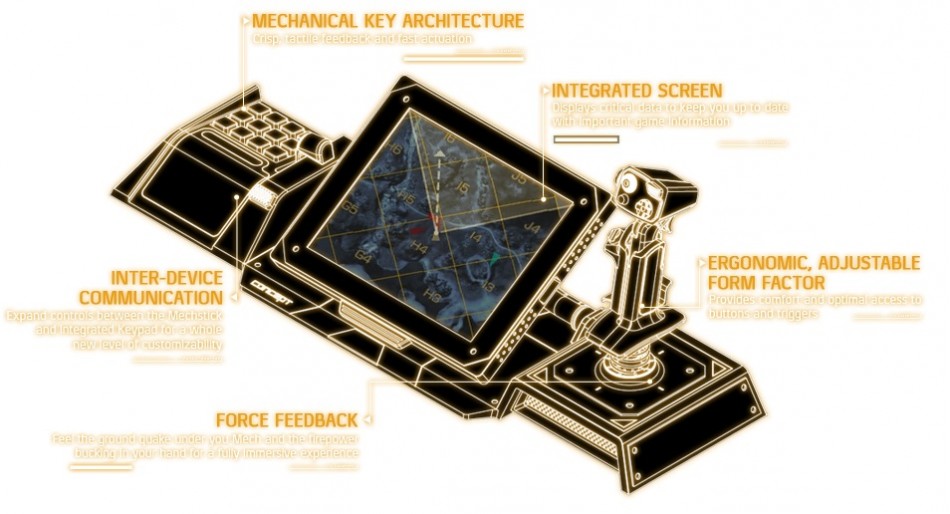 At first I was like, "eh? Tiny throttle nub, how I loathe you." But then I realized it will free 4 fingers to manipulate the 12 buttons pretty easily. The only way I've ever been able to use 12 buttons on a big *** full hand throttle was with hat switches, and a lot of confusion. But this is arrayed pretty cleanly, and it looks like perhaps the thumb button will be reverse, which would be really handy.
Now I think I'm sold on the design. For all that it includes I would easily drop $200 on it. And, if they make the center screen a touch screen MFD, I'd go even higher.
I'm really itching to get in a firefight with the force feedback. Now if they'd only release it...
What do you guys think? How much is it worth to you, or are you not interested in using it because of the lack of massive throttle power giant handedness?