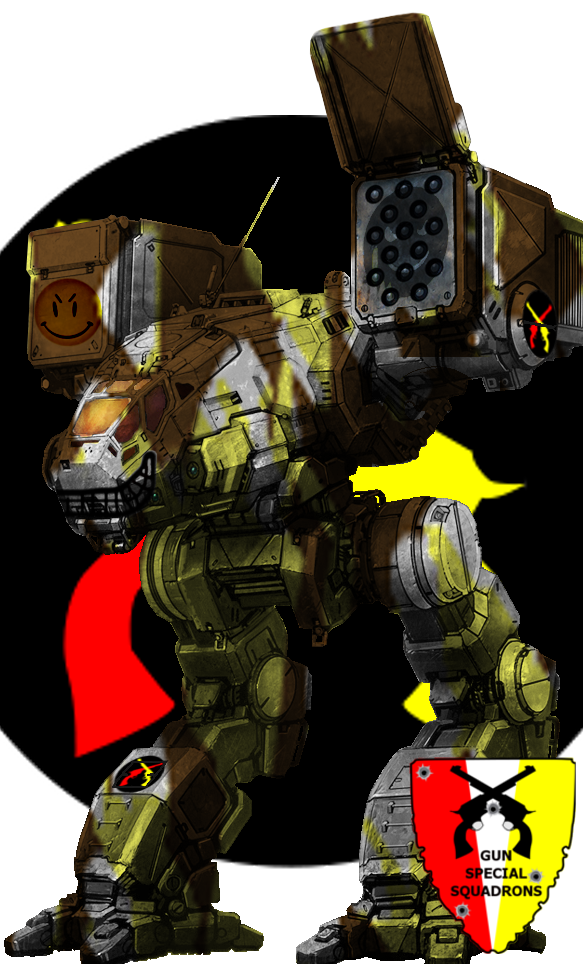 In the history of humanity no tool, no weapon, has allowed us to grow, prosper, and expand through the galaxy like the Gun. It was the Gun that allowed us to rise from barbarity into civilization, it was the Gun that gave mankind the power to colonize new lands and new worlds, the Gun tamed the west and made all men equal. Without the Gun humanity would have no protection from the dangers of the galaxy and the universe at large. Without the Gun we would have never come so far as we have today.
The Gun is the most elite weapon in all history so it is only fitting that the most elite warriors should name themselves for the weapon, I am the Gun, I am the elite weapon!
This is a call to all those Mechwarriors who think they have what it takes to be the very best! When you are prepared for war you are locked and loaded, your 'mech is the vessel and you are the weapon; you are the Gun! Gun Special Squadrons is a mercenary outfit determined to become the best company ever seen in the Periphery and the Inner Sphere - we don't only fight for money or glory we for victory!
To be a Gun is an honor few will ever know, a Gun is the epitome of what it is to be a Mechwarrior. To be a gun is to be recognized as one with the 'mech.
I am Bear and I am a Gun - I am a friendly but competitive player and a veteran of TT and PC Mechwarrior games dating back 12 years and I earned my status as a gun 9 years ago. Gun Special Squadrons was formed about a decade ago IRL by Stacy Kessler who is no longer alive, as the former XO I have taken the job as Brevet Colonel and I'm looking to form a group of players like me who are dedicated to building a better community and to fragging the competition at every turn but are here first and foremost to have some good clean fun. Role players are especially welcome and encouraged to join us but RP is not a requirement by any means. If your interested please feel free to say something here in this topic and even if you aren't I wish you all the best possible MW:O experience!
Gun Special squadrons is a unique entity in the MWO world; though we are mercenaries we are loyal to House Marik and will fight with units loyal to that house to help achieve the goals of of the Free Worlds League. Because we are also Mercenaries, we will fight to achieve mercenary goals and pick up contracts on behalf of the Free World's League and her allies. Another thing that makes our squadron unique is that while we have a command structure for matches our internal affairs are done democratically and each member of the squadron will have a say in how things are done including but not limited to the selection and promotion of officers. The most unique thing about Gun Special Squadrons is members can achieve a special title that denotes their skill in the game and/or the respect of their fellow mercenaries in the squadrons - the title of Gun which requires proof of the skills and respect of the other players in the squadron.
There are no strict requirements for joining GSS. If you can play the game and are willing to advance in skill, play as a team member, and be part of the a community than you are already GSS material. There will be no pressure to make play times even though some will be scheduled, no pressure to advance within the command structure, and no pressure to play roles and positions where you find yourself uncomfortable.
GSS is currently a very small group but we would love to expand, we have our own forum and some of us are also active members on the Free World's League Enjin site.
Even if you aren't interested in our squad I want to thank you for checking out our recruitment spiel and wish you the best possible MWO experience.
- Bear
If you want to sign up please send me a private message with the following and bump this thread back to the top!
An in MWO Universe History of Gun Special Squadrons
GSS Ranks
Edited by Gun Bear, 19 October 2012 - 10:43 AM.