I had a discusison last night about the MechLab and it boild down to: I had a very hard time finding anything on-screen about weapon hardpoints. I only saw weights, critical slots, etc... I didn't see anything that would prevent me from putting 6 medium lasers on a Hunchback's Left Arm until someone pointed out to me that the plain text in the small window below the "mech parts" diagram contained a small blurb about how many hardpoints you have remaining. Since the rest of the MechLab is color-coded, I think it would also be nice if the available hardpoints were color-coded in some way. My eyes were never drawn to that plain text window and the hardpoints are not indicated on the Mech bodyparts diagrams.
I propose that you possibly use colors to code which critical slots "host" hardpoints.... stay with me, here.
Let's say a Mech has 12 critical slots in a bodypart free to use with weapons/equipment; There are three energy hardpoints. I say the top three critical slots should be highlighted in Red (or insert color here: ______) to represent the 3 energy hardpoints. As you add an energy weapon, it will occupy so many ctirical slots (starting with the first), and in the process push the other two "Red" critical slots down the list. The next energy weapon you attach will mount on the second Red critical slot, and push the remaining Red slot even further down the list. Adding a third weapon will use all your hardpoints. If you manage use all your of ctirical slots with just 2 weapons, then the third Red critical slot would lose its red color (or become hashed) and act like a normal critical slot on the MechLab display because it's been used to mount your second weapon & you're out of critical slots, and thus it would no longer be considered an available hardpoint.
I will try to make a quick (read: crappy) image to demonstrate.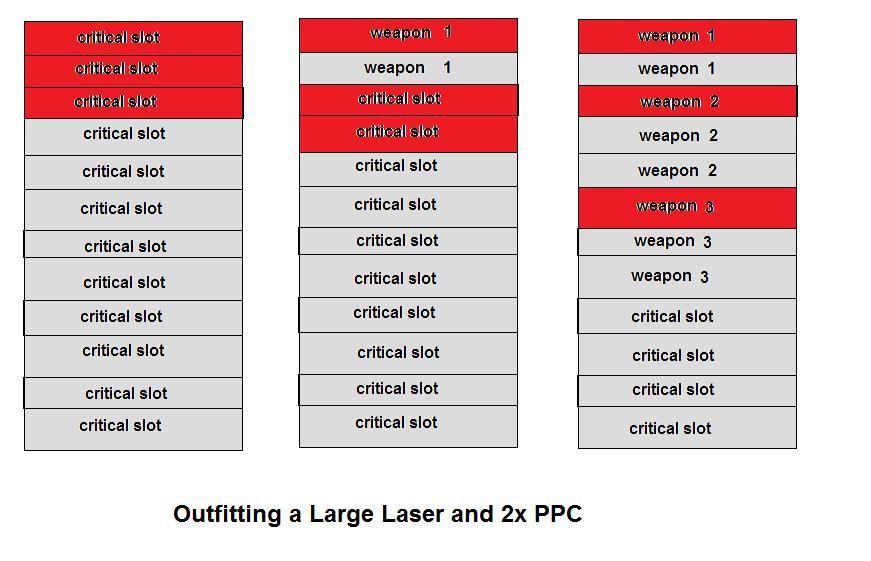 You'll notice that the third image clearly demonstrates that you cannot add more weapons, even though you have ctirical slots available, without making you take your eyes off the diagram to read some text elsewhere. I feel that adding these color-coded critical slots will make it easier for players to envision thier loadout. Green for missiles, yellow for ballistics... or whatever. It would be nice to look at a bodypart diagram in the MechLab and
SEE
what hardpoints there are instead of having to take your eyes off the diagram to
READ
what hardpoints are avialable.
Edited by Prosperity Park, 08 May 2012 - 09:00 AM.