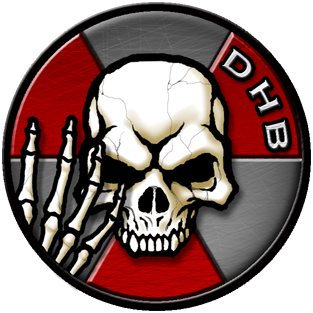 http://www.deathshandbrigade.net
The Death's Hand Brigade mercenary corps. are recruiting new pilots to the fold!
To all unaffiliated Mercenaries seeking a new home, welcome, and please have a seat. Ask any questions you'd like and please make yourselves comfortable!
We focus on having fun, and being effective as a cohesive and elite fighting force. We are actively training using Mechwarrior 4 Mercenaries available through Mektek.net, and also have a Teamspeak channel set up on the No Guts, No Galaxy Server. If you'd like to get to know us, come check us out under the Death's Hand Brigade channel!
We are 65+ members strong and seeking more pilots to grow our ranks even more. The website is completed and is ready to go, see the link above, directly below the unit logo.
Please refer all questions to me here in this thread, or via P.M. to HAV0C on the MWO forums.
<Salute>
Welcome to the Brigade.
HAV0C
A.K.A. Habokku
Colonel, Death's Hand Brigade mercenaries.
+++++ Begin Updated Information ++++++
<S> all
Effective immediately, Death's Hand Brigade will be ammending it's active recruitment policy to the following:
Interested pilots can apply at their own discretion. Activity level, individual personality and behavior will then be gauged and measured by the Brigade's command staff and acceptance to the unit from applicant status will be given from the command staff at their discretion.
If anyone has any questions please feel free to post them here.
Thank you all and I'll see you dirtside.
<S>
-Colonel Andrew "Havoc" Davis
Death's Hand Brigade Mercenaries
+++++ End Updated Information +++++
Edited by Habokku, 11 October 2012 - 08:36 PM.