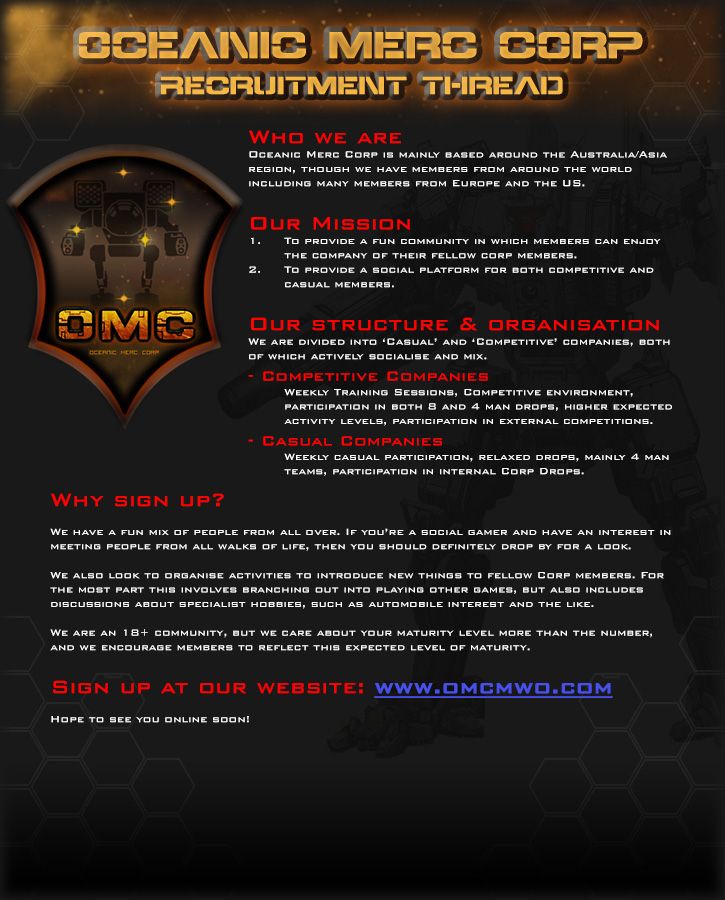 Other relevant info you may like:
Q: When were we founded?
A: Our core has been around since closed beta in July last year. We stopped recruiting to reorganise the corp to ensure members got the most out of their experience.
Honest Numbers:
Registered Members ~175
Active Members ~100 (Active being defined as being on TS/Ingame at least once a week)
Rough numbers online daily at peak AEST, 6pm - 10pm, ~20.
We have 4 Active companies, as defined above, that run regular training sessions, mainly on Mondays and Thursdays.
Other Gaming:
We also play several other games outside of MWO, including, but not limited to:
Mechwarrior: Living Legends
Mechwarrior Tactics
Natural Selection 2
Payday: The Heist
Killing Floor
Left 4 Dead
Planetside 2
Torchlight 2
Warhammer 40K Dawn of War 2
Warhammer 40K Space Marine (Come kill some Orks!)
Baldur's Gate (If they fix the multiplayer)
Minecraft! (We have a guild server
)
Any other questions, feel free to enquire here, or drop by our website!
We're also on Facebook for those of you with that:
https://www.facebook.com/OMCMWO
Lastly, our TS @ ts.omcmwo.com is open to public, so drop by and play a few rounds!
Cheers.
Here's a video made by one of our members for the corp. Join now, star in the next one!
Edited by Valore, 24 April 2013 - 08:58 PM.