We here at the Eridani Light Pony Mercenary Corporation (ELPMC or just ELP) are an honorable and noble bunch (sometimes), ranging from bronies, wanna-be bronies, and non-bronies to people who just say "what the **** am I doing here". Whether you are a fan of My Little Pony (MLP) or just looking for a bunch of people who will just make you look good, there's a spot for
YOU!
The ELP is a laid-back group comprised of people who enjoy nothing more than making fun of each other and beating the **** out of anyone who dares stand between us and our ponies (though emphasis on the making fun of each other part: if you can't take a joke, you won't survive in the ELP).
You may be asking yourself, what are the goals of the ELP? Are they going to play super competitive or casual? Can they even be a cohesive unit? Why do they worship ponies?
Firstly, having FUN is our primary goal. If we're not having fun, then there's just no point. And if we are having fun, then we shall double the fun. Once the fun had been doubled, then we can sit back and enjoy ourselves. In the case that MW:O takes on a competitive system much like other F2P MMOs (e.g. World of Tanks), then we will most likely engage in it sparingly, as many of our members are looking for a game to play at their leisure, not a second (or third) job. However, should there be sufficient support, the situation may be re-evaluated.
Secondly, we will not force anyone to do anything without a good reason. If playing competitively, you will answer to the ranking officer on the battlefield, but you will also have the opportunity to give your own input. You may be asked to play a role (scout, support, etc.) or use a specific 'Mech, but you will never be forced to do so. However, you may be passed up when a support Catapult is needed over your scout Jenner. You will also never be required to participate in competitive matches (though you may be transferred to a secondary Corp. should a player maximum be reached).
Thirdly, we do not have a required activity level. Only have time to play on the weekends? No problem. As long as we know that you're still alive, you will maintain an active status. However, extended inactivity may result in a shift to inactive/retired status (if member limits are an issue, temporary in-game removal may be required). Come back and you'll be returned to active duty with little to no questions asked. Primarily, we want you to do what you want. We won't require, or even ask, that you train for a specific role, 'Mech, activity, or anything. However, you must be prepared for any decisions that occur as a result of that.
Finally, the ELP has a somewhat unique command structure. While we require that you follow the orders of the battlefield commander, we do not intend you to follow blindly to your doom. Your input matters, so speak up. However, there is a difference between giving your opinion and insubordination, which we will NOT tolerate.
Here are a few key points of note:
Being the founders of the ELP, Hylius and HappySpawn occupy the two highest ranks.

Regardless of rank, every member is entitled to their own opinion. Even the lowliest of grunts can call out the Brevet General on what he/she thinks is a bad move. However, one must remember that the Brevet General can make things "accidentally" happen to you.

All members are promoted based on a number of criteria.

Leaders of all levels are selected based on their ability to lead and tactical prowess. Opportunities will be offered to those who wish to prove themselves worthy.

And then there's the ponies. Please refer to this thread.
So, if you think you've got what it takes (ie. not much) and have a mind strong enough to withstand daily attacks, then head on over to
EridaniPony.com
and submit an application.
Contact Us:
We now have corp e-mails up and running for each of our main officers. If you need to contact our
Diplomats
,
Leadership
, or
Recruiters
, please e-mail them at
<office>@eridanipony.com.
NOTE: E-mails will likely receive a faster response than PMs.
Important Contacts:
Commanding Officer -
Hylius
Executive Officer -
HappySpawn
Staff Officer -
Tyzh
Diplomats -
Hindenburg
,
red stapler
Recruiters -
CrunchTheRobot
,
Kilandor
,
Maverix
,
Riktor
,
shadowsong
,
Zervziel
Links of Interest:
Home Forums
MWO Wiki Page
Run Hot Or Die Podcast #1 ft. ELP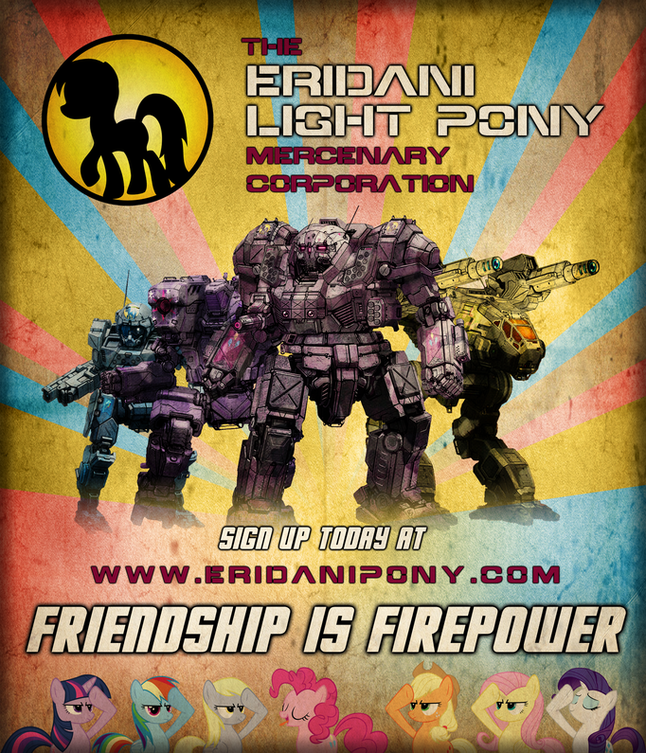 Edited by miSs, 16 January 2014 - 11:39 AM.