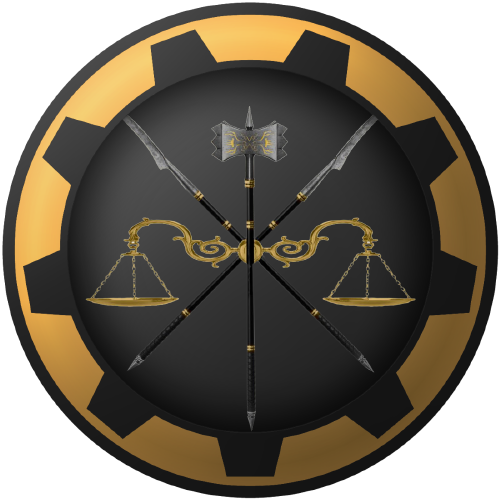 Who are we?
We are a highly organized and hardcore Inner-Sphere Warfare brotherhood that is highly passionate about Mechwarrior and the Battletech universe. Our founders started their journey in MWO since the dawn of closed beta, and have the experience to prove it.
Our soldiers fight with discipline, determination and glee to overcome all obstacles, and work with one another to establish true camaraderie and a stronger team! Our brotherhood fights in the name of the Inner-Sphere and its people.
What is our vision?
The Black Forge envisions a brotherhood of talented warriors that strengthen and empower one another. We strengthen our members through training and education in warfare. We empower them by giving them a sense of purpose, belonging, and a family.
The Black Forge strives to accomplish its vision by upholding its values and establishing true camaraderie within its ranks. We work very hard as a unit, we play very hard to earn our victories. Every victory, no matter how small, is celebrated together. Every defeat is a lesson learned.
We wish to be the best we can be, while having a blast doing it! While other units exist only to gain profit and enlist a huge army, we exist to dominate our enemies and share the experience together as one brotherhood.
What sets us apart?
The Black Forge believes in humility, honor, respect and dedication. We believe that, with these, any pilot can be forged into a weapon. By knowing that there is always room for improvement, regardless of how well one did, every veteran can continue to grow stronger. The Black Forge believes there is no skill cap, such ideals are merely self inflicted limitations. In this regard, we believe only in skill progression.
The Black Forge is a highly organized unit at its core. Our unit incorporates spreadsheets for setting up dropships, deploying forces, keeping records, tracking intelligence and more.
Aside from pregame or unit organization, we have developed a unique system for achieving hardcore play, while allowing our members a great deal of build freedom. Every one of our mechs are dedicated to specific roles in order to achieve maximum combat effectiveness.
The Black Forge prides itself on being a unit that grants rank meritoriously! Our ranks are indicators of ones ability, and commitment level to the unit! The harder you try, and the more you play, the more you are rewarded with additional privileges! These privileges include the ability to lead on the field, unit specialist positions, etc! Aside from the ranks, everyone is held accountable for themselves and we all follow the same set of rules without exception.
The Black Forge follows a chain of command, with the end decisions concerning major course corrections being made by the leadership. That being said, our leadership still asks the opinions of its community and during unit meetings asks to know how its community feels! We value our communities thoughts and listen intently to what each and every member has to say!
So if you are looking for a hardcore, fun and structured place to play, or simply crave the fellowship of other die hard Mechwarrior enthusiasts then join The Black Forge!
Want to see for yourself?
Try us out by sending us an application at http://metalmercs.en...com/recruitment we will happily play a few games with you, and tell you more about us personally!
To learn more about our about us, head over to our unit information hub http://metalmercs.enjin.com/aboutus
We look forward to annihilating the enemies of The Inner Sphere with you!
The Black Forge: Story and Battle of Tukayyid 2017 video
Additional Information
Black Forge Game Mode Bias
Supported Game Modes
Faction Warfare




Quick Play
Unsupported Game Modes
Note: The Black Forge is a WARFARE unit. We engage in battles as a team, not solo arena combat. If you are looking for a battlefield engagement, you're in the right place! If you're looking to be a lone wolf, you aren't.

What we look for in a member
Maturity

Respect

Humility

Willingness to learn and grow

Willingness to listen
Edited by Vectoron The Black Minister, 09 October 2018 - 05:23 PM.