It's time again for a look at the coming months of content currently planned for MechWarrior Online. You can check out our previous June Roadmap and Beyond post
here
.
With
Incursion released in April, the Skill Tree and major balance adjustments in May, Competitive Mode and the Energy re-balance in June, and the new tech and timeline in July, the remaining patches of 2017 will appear relatively light compared to our last few months of patches.
That said, September does bring with it a significant feature release in the form of the new, long-awaited Special Events feature.
While this feature was initially intended for release at a much earlier date, and only with support for special Faction Play Conflicts, we've since expanded the system to also support the implementation of standard in-game Events within Quick Play and Faction Play.
October and November in particular currently stand as relatively light months in terms of planned releases. However, November does see the release of a brand new, yet-to-be-named map.
You can look forward to more details about this new map as we approach its November release!
If you tuned into or have since watched the archive of our Production Update with Russ Bullock and NGNG on Friday (
YouTube
) you've already had an advance look at what's coming to MechWarrior Online in 2018, including details regarding the release of a fully-fledged Solaris Game Mode! You can find some information regarding those announcements, along with a couple other items, in the Looking Ahead section of this Roadmap.
In addition to all the new information regarding future releases, the Production Update also brought with it the announcement that the reintroduction of Inverse Kinematics (a method for adjusting the orientation of legs and feet to accommodate the shape and elevation of terrain) is no longer being pursued, and barring any future developments, has been cancelled. While we had addressed the performance issues that originally prompted its removal, internal concerns about how IK would impact the quality of hit-registration persisted. Based on our subsequent work in that area, and compared against the array of other features we've been focused toward for 2018 and their associated development requirements, the decision was made to put our IK work on-hold indefinitely. Sincere apologies to all MechWarriors who were anticipating its reintroduction; we hope the list of other, newly-announced features planned for 2018 will help to compensate for its absence.
Now, let's take a look at what's coming to MechWarrior Online in September, October, November, and beyond!

Patch Date: September 19th
Clan IIC Hero 'Mechs (
Store
)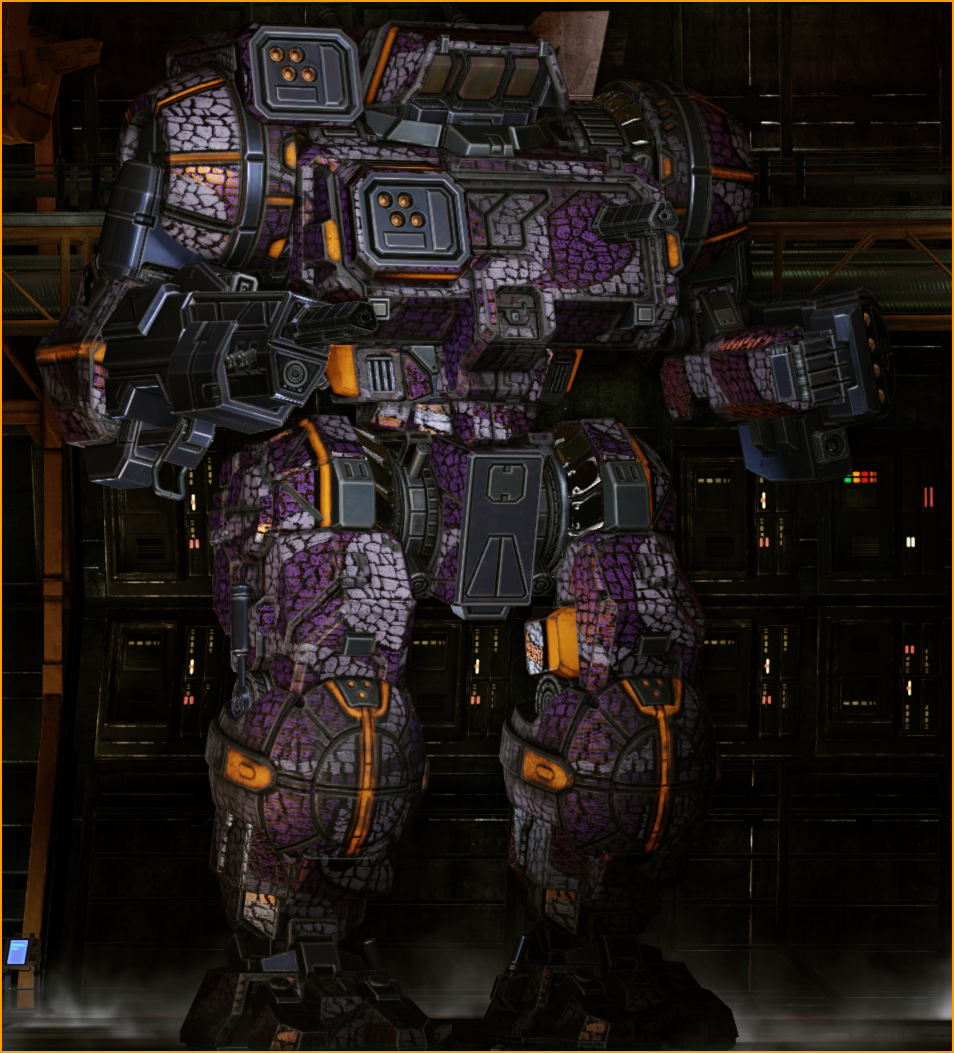 Special Events System
While this feature was initially intended for release at an earlier date, and only with support for Faction Play Events, we've expanded the system to also support the implementation of in-game Events within Quick Play.
In addition to providing better support for special per-Faction Conflicts, this feature will serve to make our regular events more 'present' for players across both Quick Play and Faction Play, with progress tracking and criteria/reward information now provided in-game, rather than purely on the website.
The majority of Event Rewards will now also be redeemable directly in-game, with a faster turnaround on injection into your account! Certain Event components however, such as Loot Bags, will continue to maintain a presence on the website.
Behind the scenes, creating and implementing Events will now be an easier, more rapid process for our Event coordinators, providing them with the tools to kick off 'impulse' style Events more frequently, whether as Daily Challenges or as Special Faction Play Conflicts responding to the latest Main Conflict results.
As usual you can look forward to the September Patch Notes for all the full details regarding this new Events system.
Mad Cat MK II Animation Improvements
The Mad Cat MK II has undergone an additional animation pass to improve the quality of its movement animations.
The Uziel will receive a similar pass in a future update to address its issues with torso animation 'hitching' when moving with a high torso turn degree.
Clan Diamond Shark Sub-Faction and Items
Following up on the introduction of Clan Steel Viper and Clan Nova Cat in our July patch, Clan Diamond Shark has been called from reserve status and is now joining the fight for the Inner Sphere as a sub-Faction of Clan Wolf. As with Steel Viper and Nova Cat,
Pilots are able to take Contracts with or pledge Loyalty to Diamond Shark as normal. However, Diamond Shark are not eligible for claiming territory of their own, nor do they cast a War Planning vote for their own Faction. As Diamond Shark are considered a sub-Faction of Clan Wolf, War Planning votes are cast under the banner of Clan Wolf.
Various fixes and improvements
Including the addition of Kill Counters to objective-based Game Modes, a fix for random cockpit shake issues, a fix for 'Mechs being able to take damage while still inside the DropShip, a fix for the halting of 'Mech acceleration when viewing the Scoreboard, and more.
Full details to be provided in the September patch notes!
Start of the MechWarrior Online World Championship Semi-Finals
2017 Annual Rewards Program Announcement

Patch Date: October 17th
Civil War: Escalation (
Store
)
Various Fixes and Improvements, focused toward addressing long-standing or high priority issues and desired improvements
Patch Date: November 14th
A new, mid-sized, Tourmaline-style Map, with support for all Quick Play Game Modes, their Faction Play counterparts, and Scouting.
Design on a new, Tourmaline-style map has been completed, with the map now in the final art phase. We know everyone is stoked for more information and details for this one, so keep an eye out for some advance peeks as we approach its release this November!
Continued Fixes and improvements, again focused toward addressing long-standing or high priority issues and desired improvements
2017 Annual Rewards Program Content Release

Evaluating a Return to 8v8 Quick Play
As outlined in the Production Update, the merits of 8v8 and 12v12 Quick Play match structures have long been a point of discussion both internally and within the community. While some additional work behind the scenes and continued feedback from the community are required before we move forward, a return to the 8v8 Quick Play match structure is currently under consideration.
Initially, it is likely that Quick Play matches on the live servers will undergo a temporary switch to an 8v8 structure for a period of time in order for us - and you - to gather practical feedback on its impact. While we aren't yet prepared to set a specific time frame for this, you can expect more information in the very near future.
• Unannounced Inner Sphere Medium
• Unannounced Clan Light

• Unannounced Clan Medium
Special single-variant Patterns (December)
A new City Map (Early 2018)
Solaris Mode! (Spring 2018)
A complete Solaris Mode is planned for release in 2018! Players will rise in the ranks of the Solaris Games, facing off against other MechWarriors in 1v1/2v2 PvP engagements on maps designed specifically for the flair and scope of Solaris. On your path to becoming a renowned Solaris Pilot you'll expand your notoriety through victory in the arena and draw the attention of Patrons and additional Sponsors based on your performance.
Conveying the sense of fame and showmanship inherent with Solaris is a primary focus of this feature, leveraging existing and upcoming 'Mech customization features to make your 'Mechs stand out from the pack, enabling you to make your mark on the Solaris Games and become known throughout the Inner Sphere.
All 'Mechs in the game will be classified into a limited number of Solaris Divisions based on their most-optimized Loadouts specific to small engagements. Solaris Pilots will be matched within the Division of their current 'Mech; Division 1 'Mechs will only face off against other Division 1 'Mechs.
On the Pilot-level, players will be matched according to standard Elo systems.
Spectating will be readily available within the Solaris feature for players who want to tune in to watch select matches featuring the most advanced Pilots the world of Solaris has to offer.
With lots of work ahead of us prior to the planned release of Solaris in 2018 you can look forward to more information about Solaris and its features in the coming months, with the first sneak peek planned for public showing (and live streaming) at
Mech_Con 2017
!
Attendees will also get the unique chance to experience two brand new Solaris maps at our Mech_Con 1v1 Stations; House Davion's Boreal Reach arena and House Liao's Jungle arena.
Bolt-On Geometry
Part-and-parcel with the release of Solaris, 2018 will see the release of a new bolt-on geometry system for personalizing your 'Mechs. With this feature you'll be able to equip purely cosmetic pieces of distinct geometry onto your 'Mech at pre-determined locations.
These geometry pieces will not contribute to the hitbox of your 'Mech or impact the way in which your 'Mech takes enemy fire; when hit by incoming fire these pieces will simply be destroyed, with your 'Mech taking appropriate damage to any struck components as normal.
First-Person MechBay
Currently planned to roll out alongside Solaris, 2018 will bring with it the ability for you to step onto the ground floor of your MechBay and view your currently-selected 'Mech up close. We'd like to stress that this feature is relatively narrow in scope, aimed simply at enabling you to view your 'Mechs at proper scale with all the glory of your Loadout and customizations on display. This first-person view will not include a walking pilot model, and at least upon its initial release, the MechBay is not expected to support any customization features.
Also currently planned to release alongside Solaris, the current Supply Cache system will be undergoing significant revisions aimed at making the Caches more accessible and more rewarding.
Rather than viewing the contents of each Cache prior to opening, and then receiving only one of the included items, the new system is geared at providing you with
all
the items within the Cache but without the ability to see its contents prior to opening. We will also be phasing out the Supply Cache Key system altogether; if you have a Cache in your inventory you'll simply be able to open it and get the goods, with no key or additional requirement needed.
You can expect more details regarding the new Cache system, along with details regarding the transition from the existing Cache and Key system to the new Supply Cache system, as we near its release next year.
That covers it for this look ahead for upcoming MechWarrior Online content and releases, MechWarriors. We'll see you here again for our next Roadmap this December!