ROADMAP UPDATE!
Welcome to the Roadmap update!
June
The June Patch notes will be here very soon but we wanted to give you a sneak peek of Rubellite Oasis's new capture points on Conquest. These changes improve the map balance for the opening season of Competitive Play leading to the World Championships at Mech_Con. The long-awaited Flea finally jumps into MWO and is sure to infest the servers. We have several mechs receiving 3060 Weapon retrofits and Bolton support. There are nice improvements to look forward to in Solaris,
as well as a new long-awaited feature release for MWO...Build Profile Saving and Sharing! You can look forward to the full June Patch notes Next week with the Patch releasing June 19th.
New 'Mech:
3060s Weapon Retrofits for 11 'Mech Chassis:
Assassin

Battlemaster

Blackjack

Catapult

Centurion

Cyclops

Locust

Hunchback

Jagermech

Raven

Stalker

Bolt-on Retrofits for 31 'Mech Chassis:
Annihilator

Arctic Cheetah

Arctic Wolf

Black Lanner

Blood Asp

Cougar

Ebon Jaguar

Executioner

Fafnir

Gargoyle

Hellbringer

Hellspawn

Highlander IIC

Hunchback IIC

Ice Ferret

Jenner IIC

King Crab

KitFox

Mad Cat MK II

Mauler

Mist Lynx

Nightstar

Nova Cat

Osiris

Orion IIC

Piranha

Shadow Cat

Sun Spider

Thanatos

Uziel

Wolfhound
Changes to Conquest Capture Points in Rubellite Oasis Map
BEFORE: (old)

AFTER: (new)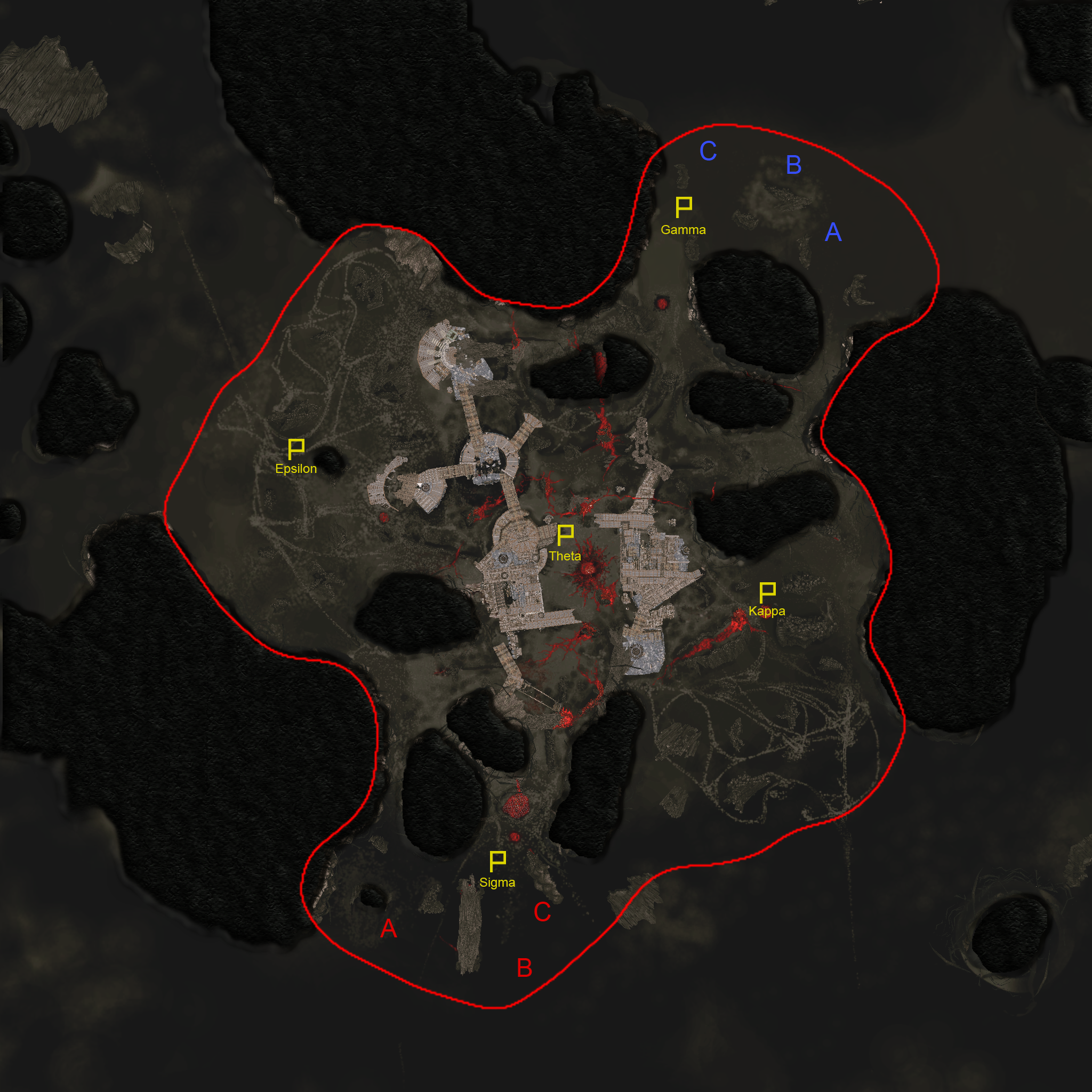 New Feature: Build Profile Saving and Sharing
You will be able to save and load 'Mech loadouts and Skill Tree builds with ease with this new feature!

You can export your favorite 'Mech loadout and Skill Tree builds to share with other fellow MechWarriors or even choose to import other MechWarriors' builds for your own use.

Sharing build codes has been made much easier as well with a small update to the Floating Chat system.

Comp Play Queue Changes for Upcoming MWOWC 2018:
Re-enabling access to Comp Play queue.

Updating map selection in Comp Play: Canyon Network, Rubellite Oasis, Mining Collective, Caustic Valley, Grim Plexus.

Updating Comp Play rules.

Allowing Consumables to be used with Stock mode option in Private Lobby

Solaris Improvements:
Adding Solaris events to the Special Events system.

Adding ability to search pilot names in Solaris Leaderboards.

GDPR Compliance:
Adding ability to accept Terms of Service from in-game pop-up.

Adding "Withdraw Consent" functionality through website log-in.

General Balance Tuning:
There will be two major balance changes directly aimed at improving core pieces of equipment for the MWOWC 2018 season. However these changes will not be limited to competitive play:
Standard heat sinks will see a minor improvement to provide a bit more flexibility in stock play. Specifics to come with the June Patch Notes.
Autocannon and Missile ammo will be increased to provide better overall potential damage-per-ton compared to the current game. And provide a bit more damage potential from ammo based weapons in the upcoming MWOWC comp queue. Specifics to come with the June Patch Notes.
July
July brings even More 3060 Weapon retrofits and Bolt-ons! Additional content will be released to all 2018 Tournament Pack Supporter owners and it is so good I can't even... Meanwhile, a brand new Season begins in the Solaris 7 games! You can look forward to some division changes and a reset of the Leaderboards. We'll also be seeing some improvements in the Solaris Season seeding process and Reward item changes in its Supply Caches. The new Build Profile Saving and Sharing feature from June's patch will be receiving additional improvements. Finally, the flaming Hellfire 'Mech releases during this summery month too.
New 'Mech:

[Updated info on Weapon Retrofits] (Edited on June 27th)
With the retrofits released in June, we changed the weapon hardpoint textures on the Shadow Hawk to unpaintable gunmetal instead of matching them to the 'Mech's various camo pattern textures. We made this choice to keep consistency with all the other current and new 'Mechs' weapon textures being designed this way: as unpaintable gunmetal.
However, after reviewing community feedback on the June retrofits, we will be changing the Shadow Hawk's weapon textures to look as close as possible to the camo painted weapon hardpoints it previously had.  
In order for the Texture Artists to repaint textures on each weapon for the Shadow Hawk and/or other possible retrofit adjustments from the feedback, the list of 'Mech Weapon Retrofits in July and August will currently remain undetermined until Patch Notes are released.
Here's an insider look of the Texture Artist's work on Weapon Retrofits:
While old weapon hardpoints are removed, new weapon hardpoints take place where every piece must be textured, assigned a material, and then painted with every camo pattern that the 'Mech supports with approximately over 25-30 patterns per 'Mech,
'Mech hardpoints consist of many different weapons where each is painted to match seamlessly to the 'Mech's surrounding camo pattern and materials.
For example in the image below, the Dragon 'Mech's weapon retrofitted hardpoints in the front center torso, side torso and arms, you can see the red pieces which represent the geometry that change depending on the equipped loadouts, while the white geometry represents the 'Mech body.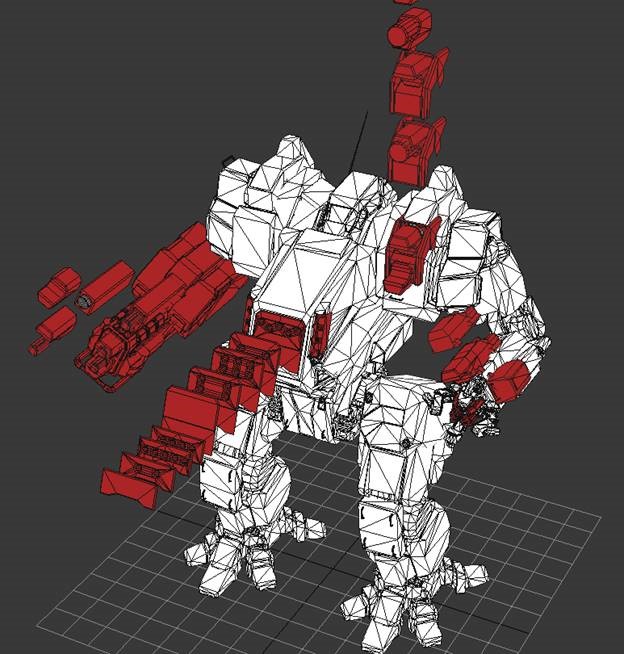 Looking at the second image below of our CURRENT non-retrofitted Dragon Hero 'Mech, the pattern would be significantly modified if the retrofitted version above each hardpoint piece of geometry was not re-painted exactly like the original with the pattern on the front. This is where some 'Mechs can take significantly more time than others to replicate its' original appearance and details with the number of red geometry pieces to re-paint.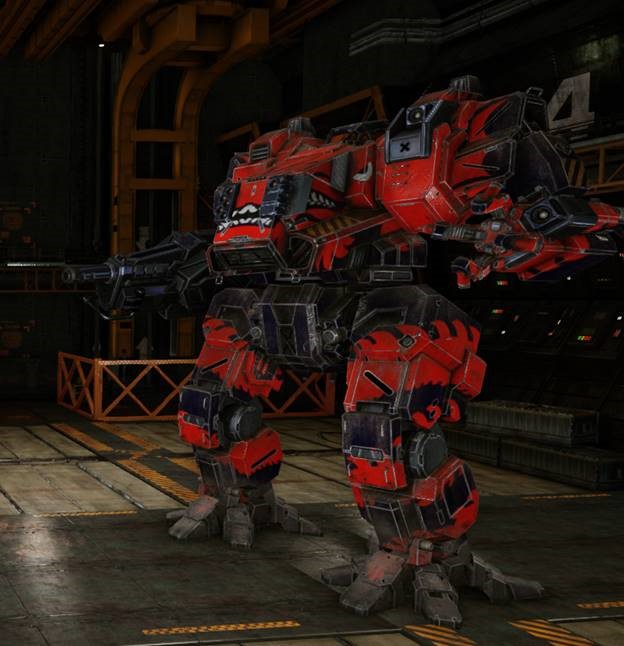 More Bolt-on Retrofits to 'Mech Chassis
Bonus Item for 2018 Tournament Supporter Pack Owners
New Summer Themed Cockpit Item
New Solaris Season - July to October 2018
Resetting Solaris Leaderboard and set new season end date.

Updating Solaris 'Mech Division assignments.

Revising item pools for Solaris Supply Caches.
Solaris Improvements:
Improving Season seeding process.

Build Profile Saving and Sharing Improvements:
Allowing players to try out imported 'Mech loadouts using Testing Grounds.

Showing invoice for extra cost of using imported loadouts.

August
These are the current items targeted for August, but you can rest assured that this roadmap will receive a few updates as more items line up for the August release. Here is what we know so far. Another "Hot" 'Mech is coming in time to enjoy the remainder of the summer, Trial 'Mechs are getting an update, more 3060 weapon and Bolt-on retrofits, and a fresh item for 2018 Tournament Pack Supporters! We will keep you posted as we get more details in the coming months!
New 'Mech:
Trial 'Mechs Update
3060s Weapon Retrofits
More Bolt-on Retrofits
Bonus Item for 2018 Tournament Supporter Pack owners