North American Launch Event 09.26.13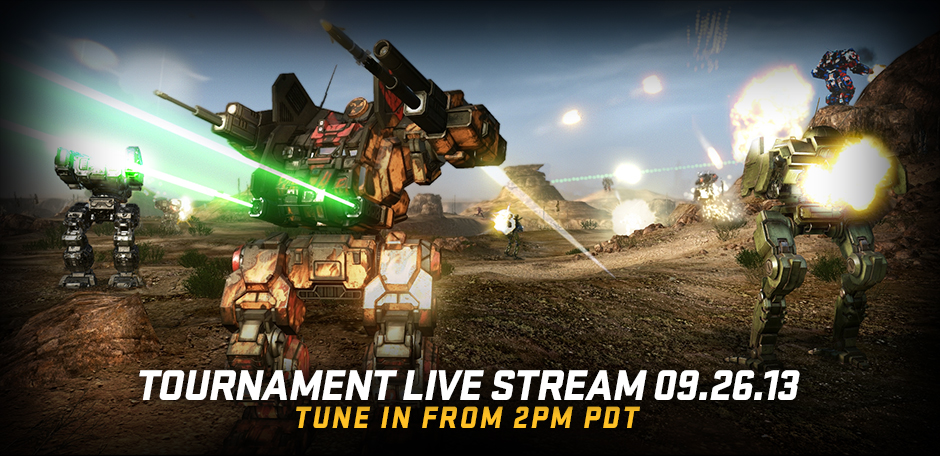 Official Sponsors
---
---
We're celebrating the end of Open Beta in San Francisco!
Celebrate the North American Launch of MechWarrior Online with our developers! Watch the live tournament featuring members from the MWO community as they compete for exclusive prizes and the chance to become a MechWarrior champion.
Registration for the event is now closed, but we'll be streaming live so you won't miss out on the `Mech blasting action!
Join us on September 26, 2013 at 1pm PDT onward for the livestream at http://twitch.tv/MechWarrior
---
EVENT SCHEDULE - SEPT 26TH (TIMES SHOWN ARE PDT)
2:00pm Invitational Tournament Round 1
5:00pm Invitational Tournament Round 2
7:00pm Presentations + Door Prizes
7:30pm The Special Match (name to be finalized)
8:00pm Semi Finals
9:00pm Grand Final
9:30pm Awards
---
Team O - Tiger
Team D - Cobra
Team D - Cobra
Team B - Buccaneer
Team A - Virus
Team B - Buccaneer
Team D - Cobra
Team C - Caution
Team D - Cobra
Team H - Jarhead
Team F - Hazard
Team E - Ghost
Team F - Hazard
Team H - Jarhead
Team G - Hunter
Team H - Jarhead
Team O - Tiger
Team J - Oxblood
Team J - Oxblood
Team I - Mantis
Team J - Oxblood
Team K - Patriots
Team K - Patriots
Team L - Phranken
Team O - Tiger
Team N - Sherman
Team M - Plasma
Team N - Sherman
Team O - Tiger
Team O - Tiger
Team P - Vapor
Teams
---
Team A - Virus

Team B - Buccaneer

Team C - Caution

1.
★
Helmer
H
1.
★
Eagle Furey
L
1.
★
SkyDiva
L
2.
DocBach
A
2.
MadCarlos
A
2.
Errodien
A
3.
Frederikt
A
3.
soulfire
A
3.
Finring
A
4.
Kendricke
A
4.
Zalacious
A
4.
TI 5335
A
5.
Fochs
H
5.
Allele Serodie
H
5.
BlueFly17
H
6.
zuumie
H
6.
Desdichado
H
6.
Guinness530
H
7.
Kealios
L
7.
RedFoxsi
H
7.
Kell Commander
H
8.
Ran Za
L
8.
brighteyes
L
8.
ohtochooseaname
L
9.
Zombie SixNine
L
9.
Faragorn
L
9.
SGT Puddles
L
10.
armitage
M
10.
dymlos2003
M
10.
Aoi Esq
M
11.
Lokisonn
M
11.
Minoxen
M
11.
daver
M
12.
SovietArmada
M
12.
reven
M
12.
Nemesiis
M

Team D - Cobra

Team E - Ghost

Team F - Hazard

1.
★
TheMagician
A
1.
★
1nferno
H
1.
★
Aloha
M
2.
Clayton M Abernathy
A
2.
AA Yeti
A
2.
ACfromDC
A
3.
Noodlesoup
A
3.
Predatorsd
A
3.
Goth5150
A
4.
battlemaster
H
4.
The FreyMan
A
4.
Celestial
H
5.
Blind Temple
H
5.
Karl Krell
H
5.
Eagle
H
6.
Othello
H
6.
Roughneck45
H
6.
HELLBRINGER666
H
7.
Gregory Owen
L
7.
Dark Radiance
L
7.
TekGnosis
H
8.
Lailoken
L
8.
GRiPSViGiL
L
8.
Chimp On Stilts
L
9.
WarHawkZero
L
9.
Lyen
L
9.
Lucky Moniker
L
10.
CiCCaTRiCe
M
10.
Deathsiege
M
10.
Shock Wave
L
11.
KishPrime
M
11.
ghostbear
M
11.
fallenhawk1
M
12.
Loc Nar
M
12.
mech79
M
12.
MechaKaiju
M

Team G - Hunter

Team H - Jarhead

Team I - Mantis

1.
★
Omnicide Perez
H
1.
★
Edmiester
L
1.
★
Malkavia
L
2.
CommanderOSIS
A
2.
grlpwr
A
2.
Blaze Misaki
A
3.
Damocles54
A
3.
LittleSoldier
A
3.
Uncle Ted
A
4.
Trig
A
4.
Vincent Hall
A
4.
Woopass
A
5.
Deadfire
H
5.
Canadian Bacon
H
5.
Dali
H
6.
Selitos
H
6.
CarnifexMaximus
H
6.
Ihasa
H
7.
DanTrew
L
7.
Qualtain
H
7.
Killkie
H
8.
Khoresch
L
8.
Mr Tibbs
L
8.
ikitai
L
9.
Nothemal
L
9.
Ter Ushaka
L
9.
Mellowseven
L
10.
Arathena
M
10.
badkilik
M
10.
AgroAntirrhopus
M
11.
pkdawg
M
11.
Darklight605
M
11.
Carrioncrows
M
12.
SmilingAvenger
M
12.
Readog
M
12.
Doones
M

Team J - Oxblood

Team K - Patriots

Team L - Phranken

1.
★
SirLANsalot
A
1.
★
DirePhoenix
M
1.
★
Scav3ng3r
M
2.
BabyCheesus
A
2.
grim57
A
2.
NinetyProof
A
3.
mobius
A
3.
Jonathan Paine
A
3.
Talbacca
A
4.
Peter2000
H
4.
mechromonger
A
4.
Tyro89
A
5.
Sir Titan
H
5.
DingoK
H
5.
Benjamin Ng
H
6.
SnackLord
H
6.
KerenskyIsMyHomeboy
H
6.
Ingvay
H
7.
Corwin Vickers
L
7.
pont
H
7.
theCheek
H
8.
Mofwangana Bogogono
L
8.
InMidnightClad
L
8.
AlphaOmegaMech
L
9.
Voidrazor
L
9.
Maverick Howell
L
9.
owyn
L
10.
AngryIronworker
M
10.
TheBaron
L
10.
thelawwon
L
11.
Noobpaint
M
11.
roastpuff
M
11.
GoingRampant
M
12.
Wolf Ender
M
12.
xThrottle Geek
M
12.
Shazarad
M

Team M - Plasma

Team N - Sherman

Team O - Tiger

1.
★
Epic Weasel
A
1.
★
Mav The Evil
A
1.
★
JagerXII
A
2.
EmCeeMendez
A
2.
Blade Banzai
A
2.
Conoger
A
3.
FezMaster
A
3.
Thorgrym
A
3.
jeirhart
A
4.
Dakayres
H
4.
Gixx
H
4.
B B Wolfe
H
5.
Galerius
H
5.
Just as planned
H
5.
Red Shift
H
6.
Xiayohen
H
6.
Moment Killer
H
6.
Spurowny
H
7.
Jarrett Garcia
L
7.
Miyuki
L
7.
Foo2rama
L
8.
ObsidianSpectre
L
8.
Phorcys
L
8.
FSxHunter
L
9.
Zarakynel
L
9.
Zwd
L
9.
QueenBlade
L
10.
Ampkai
M
10.
Amgal
M
10.
Ace of Spades
M
11.
Arash
M
11.
Sochr000
M
11.
Marcus Roland
M
12.
SLxDarkknight
M
12.
Xander Grey
M
12.
Mister Zeus
M

Team P - Vapor

1.
★
borisof007
L
2.
Bubba Fett
A
3.
Caviel
A
4.
Stealth Raptor
A
5.
Diar
H
6.
lashropa
H
7.
screamingiraffe
H
8.
ICEFANG13
L
9.
Shirou Masamune
L
10.
Allen Lin
M
11.
Maphr
M
12.
whitefeather
M