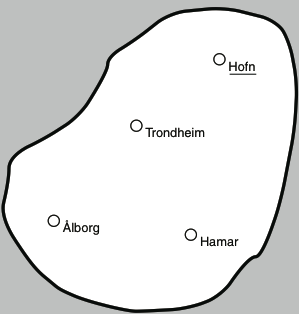 Deep Periphery, JarnFolk Cluster, Planet Hofn
September 2985
The ancient structure groaned as the seasonal ormhrithr battered against its sturdy walls. The wailing warning sirens, so clear only minutes ago, were mute beneath the cry of the Dragon-Storm.
Arnulf Torgrimson steadied himself. The ormhithr, or Dragon-storms, were nothing new to the inhabitants of Hofn. To an outsider it might seem as though they took an almost casual approach to these 300kph storms, but they'd be sorely mistaken. Every Hofnarr was keenly aware of the easy terror these storms were capable of. Everyone understood that the Frost-Giants of old were deep within the bones of this world and that they wandered at the heart of the Dragon-Storms urging them on to rip of the flesh of living.
Arnulf was still dripping with melted sleet and hail. He'd been out on his sturdy knorr tending his herds of Hegomi who swarmed beneath the Serpent's Sea when he recognized the sea's eery calm. By the time he'd heard the warning klaxons echo across the water he was already rowing madly towards shore. When the sleek fog rolled over him he was sprinting towards his mostly subterranean homestead, known on Hofn as a Hlifa. When the skin-stripping bone crushing winds rammed into his Hlifa, Arnulf had barely secured the door behind him.
And so Arnulf Torgrimson steadied himself. Today had been close. But then it always was. Such was the risk of maintaining a deep-sea Hegomi herd. As Arnulf collected himself he noticed a fresh set of boot prints in the antechamber. He had a guest.
Arnulf took a moment to dry himself and then ventured deeper into his Hlifa towards his guest-hall. A guest during an ormhithr was a common occurrence on Hofn. The need for shelter outweighed any other social protocol and even mortal enemies were known to share a hearth during such a storm. The Aesir had taught them that against such elemental enemies as Giants, Trolls and Dragons that humanity always shared the same side.
Arnulf's homestead, however, was very remote. For a stranger to be close enough to use his homestead for cover in a dragon-strom was highly unusual.
As Arnulf approached his guest-hall he slowly pressed his hand against the hilt of his personal saex sheathed behind his back. While attacking a guest in his homestead would be a grave and dishonorable crime, Hofn was located in the Deep Periphery where one always had to be wary of unexpected strangers.
Arnulf saw a figure huddled before a red flickering fire and his tension eased somewhat. At least it didn't appear to be an ambush.
"Hail Guest! I hight Arnulf son of Torgrim, son of Grimdan founder of this Hlifa." Arnulf announced with his hands held open in the sign of hospitality.
His guest was draped in a ragged black cloak with a rain-drenched winter cap pulled snuggly gripping to his head. The flickering light danced shadows on his face as he turned towards his host. Arnulf couldn't tell if the deep lines the shadows danced in were wrinkles, scars or a trick of the light. The man's greying beard bristled as his voice boomed in response, "Well-met Arnulf son of Torgrim, son of Grimdane founder of this Hlifa." The stranger brought his hand up to his head in an informal salute," I hight Freyulfr son of Freybjorn. Thegn of the Raven's Throne and Deep-Seer of the Hofn Althing."
Stunned at his guests high rank and heritage Arnulf immediately dropped to one knee, even though no protocol actually demanded it. "My Thegn!"
Freyulfr rumbled a deep chuckle, "Rise, friend! You forget we are JarnFolk. There are no Star Lords to be bowed and pampered in the deep dark womb of the Periphery."
Arnulf nodded and returned to his feet, he decided to speak plainly, as was the way of his people. "A Thegn would not be here in the sea-wilds of Hofn unless he had an express purpose. What is yours, Thegn Freyulfr."
Freyulfr nodded approval. "A question well asked." He gestured towards the bench next to him. "Join me by the fire Torgrim's heir."
"The Abtakha who, as you know, maintain our Jarnskib Jumpship fleets to their extremely high level of technological excellence have grown very uneasy as of late. They fear their cousins beyond the Veil of the Protector are going to try something. They think that no one, not them not our distant kinsmen back in the Inner Sphere, will be safe. Their concerns demand our action."
Arnulf rubbed his head, "Everyone knows the wisdom of the Abtakha and no one doubts that their military prowess is unparalleled by anyone, except their cousins who exiled them so long ago. This is dire news indeed. But I don't understand what it has to do with me, Thegn."
Freyulfr's eyes seemed to twinkle as he reached into his cloak and carefully pulled out a velvet wrapped object gently resting it on the open bench between them. Arnulf reached for it than hesitated and looked to Freyulfr who encouraged him to continue.
Reverently Arnulf pulled back the velvet, Arnulf's breath sucked in with the sudden shock of what he had uncovered. There before him was one of the most beautifully designed slug-throwers he'd ever seen. Carefully handcrafted, as all JarnFolk weapons were, this one had clearly been designed by a master smith. Rune covered with a wolf head handle, dragon muzzle and raven firing mechanism it was true work of artistic brilliance. Arnulf dared not breath and quickly placed the velvet wrapping back over it.
Arnulf understood the significance of Freyulfr's silent request. He lightly placed his hand on velvet and bowed his head towards Freyulfr. "I pledge my service to you my Thegn. My will be your will, my hand be your hand, your goal be my goal. Under the One Eye I accept this honor until your mission complete or Valhalla takes me."
Freyulfr clapped his hands together, pleasure clearly visible on his face. "That is most welcome news my young Huskarl! Now for the details.."
"My Thegn" Arnulf interrupted Freyulfr, "I agree to this honor gladly. But I don't understand why you chose me?"
Freyulfr gave Arnulfr a serious glance that immediately softened. "Of course of course." He pointed towards the velvet obscured weapon." I don't give such a prize to all my Huskarls. I come here in payment of an honor debt I owed to your father. We served together in one of the Abtakha's Training Sibkos and then..", Freyulfr pasued, " let's just say I owed him."
Freyulfr gestured to the Hlifa all around him. "I know how your father died. I know he was ripped apart by one of your famous dragon-storms and I know his weapon was never recovered."He put a hand on Arnulf's shoulder, "I also know that without that weapon, the very essence of your family's honor, that you have almost no future." He shook his head grimly, " one of the worst fates a freeholder can suffer here. While I can never repay the honor-debt I own your father, I can make some good on it by honoring his son."
Arnulf struggled to contain his emotions. Even as the storm battled outside so too did a storm battle inside his soul. A sob or two escaped his lips before he regained control, taking comfort in Freyulfr's strong hand on his shoulder. So much had suddenly changed. From pauper to prince. From undesirable to the cream of the social crop. His honor restored, his family line would no longer have to end with him. It felt like his entire life had been restored.
Arnulf's voice was a quiet whisper, barely audible over the storm, "Anything. Anything you ask my Thegn."
Freyulfr sat back in his chair and looked deep into the fire. He took a long quiet moment than spoke, "My good eye can only see as deep as the four worlds we inhabit, but for us to be ready I must see more. I need to know what the Abtakha's kinsmen are preparing on their secret worlds." Freyulfr looked up and into Arnulf's eyes, "I need you to infiltrate them and learn their plans. I need you to go where I cannot see and find out what I must know."
Grimly Arnulf nodded. The price of his restoration was indeed steep. But he would have gladly paid it a hundred times over. "Your will is my will, Thegn."
Freyulfr smiled, "I know you won't let me down, Huskarl Arnulf."
Arnulf's eyes returned to the wrapped weapon, "When, my Thegn, will my mission to infiltrate the Clan homeworlds begin?"
Freyulfr leaned forward, "Immediately, my boy."
Freyulfr listened to whirring storm with-out the sturdy walls of Arnulfr's Hlifa. "Well, once this damned Dragon-Storm is over, anyways."
Edited by Mech The Dane, 06 November 2013 - 06:13 AM.