0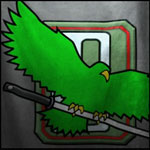 Beginner Looking For Unit
You cannot reply to this topic
Posted 12 August 2017 - 09:01 PM
I have only been playing for a few days now and am looking to join up with a unit.

---
Posted 13 August 2017 - 05:05 AM
You posted this in the FRR section of the Inner Sphere Forums.

Since you're a Jade Falcon loyalist you might want to look for units there.

---
---
---
1 user(s) are reading this topic
0 members, 1 guests, 0 anonymous users