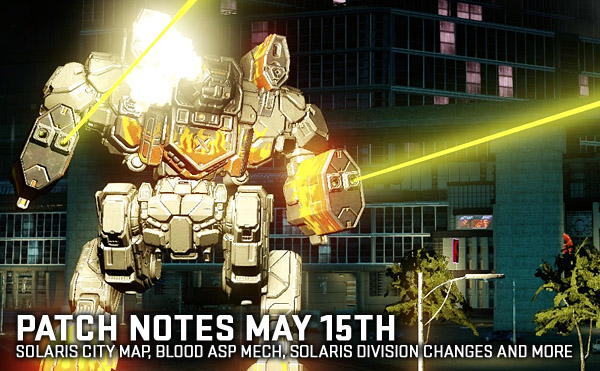 MechWarrior Online May 15th Patch Notes

Tuesday, May 15th 2018 @ 10AM – 1PM PST
Patch Number: 1.4.169.0
Standalone Client Patch Size: ~900 MB
Steam Client Patch Size: 1.2 GB
Please note that due to compression differences the Steam patch size may be larger than the standalone client patch size.
Greetings MechWarriors!
The Blood Asp is here and it's already causing a stir! With a Solaris 7 Division 1 placement and some last minute manufacturing tweaks (shoulder cannon size correction), players will see the Blood Asp roll out in style. Look for a Quickplay 'Mech Challenge for Blood Asp owners starting on May 17th.
The Solaris City map is here! Teased at Mech-Con the look of the map is unlike anything currently in rotation. I don't know about you, but I'm betting this Vegas looking map is going to popular! Remember: What happens in Solaris City...does not stay in Solaris City.
We also have New Bolt-ons, and more 'Mechs supporting Bolt-ons(The Ghillie Bolt-ons are one of my favorite new items in our game)! All this with tons of tuning changes and a handful of bug fixes round out the patch! Read on for all the details!
See you on the Battlefield,
The MechWarrior Online Team.
BLOOD ASP https://mwomercs.com/blood-asp
"Thursday, in a demonstration for Clan Star Adder(a major purchaser of the Blood Asp), several MechWarriors noticed that the shoulder cannon housing had dynamic sizing based on the equipped weapons. Concerned pilots gave valuable feedback and the manufacturer listened! Huzzah! Production experts at the manufacturing plant have noted the increase in materials used and they anticipate a 2% increase in costs across this production run. The Lead 'Mech designer at the Facility is quoted as saying 'the size of the shoulder mounts will now match the Mechwarrior's Ego.' Since the manufacturing process has been adjusted, the QA managers have assured us that those who deploy in the first run of production of the Blood Asp will now 'look good when they die.'
See the Countdown for more Media and details on the Blood Asp.

Solaris City is available in Quick Play and supports the following modes: Assault, Conquest, Skirmish, Domination.
PREVIEW IMAGE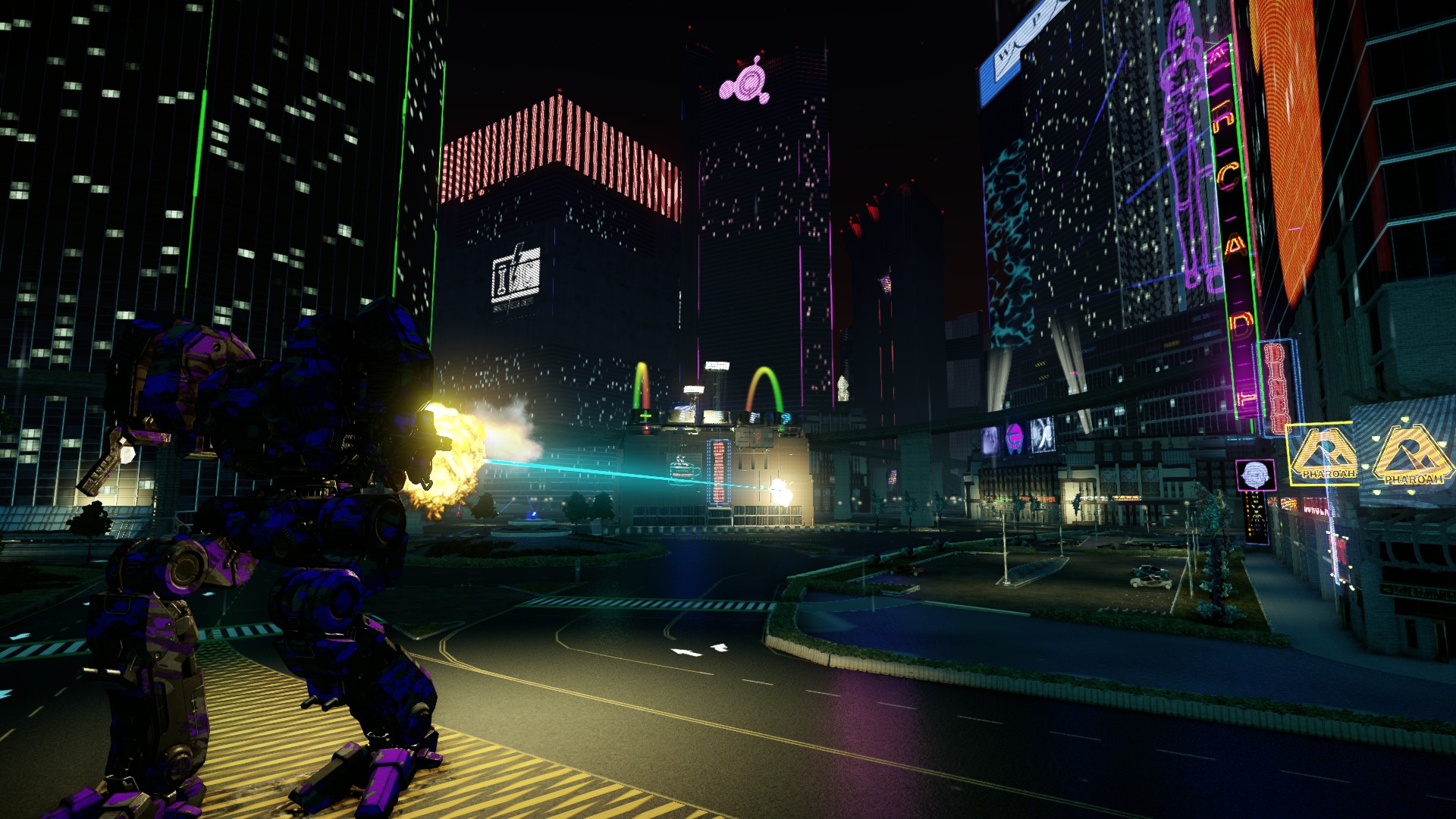 MINI MAP PREVIEW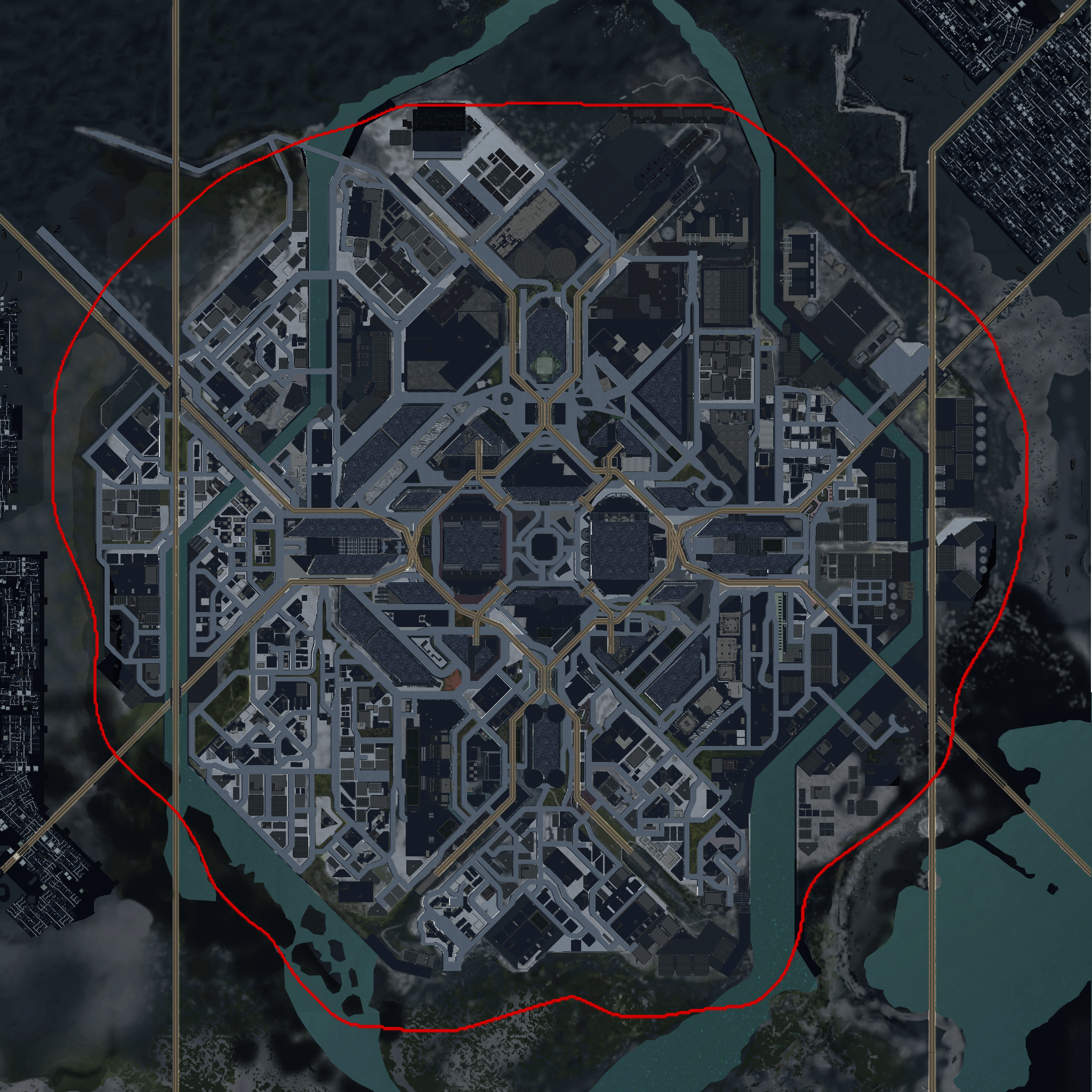 A word of caution about Solaris City
The Solaris City map is a processor intensive map and due to this, it is one of the slowest maps we have created. That being said, we are putting this map on high priority in terms of monitoring its performance on the live servers and will be addressing everything we can as quickly as we can. Due to the complexity of urban/city environments and the extensive amount of unique models required to populate it without it looking extremely repetitive, some creative/technical liberties were needed to allow this map to be built in the current version of CryEngine. As stated, we will be monitoring performance metrics intensively and will include updates to the map with every patch/hotfix that goes out until we hit a point of optimization where improvements will no longer be noticeable. While far from unplayable, it's not performing at a consistent level of acceptable norms. Min Spec players may have a harder time with this map than others. The biggest take away from this statement is, please be aware, we are monitoring and acting upon this map as a top priority item.

New Bolt-Ons and More 'Mechs get Bolt-ons!

The following 'Mechs now have Bolt-on Support:
Atlas, Banshee, Black Knight, Centurion, Crab, Enforcer, Firestarter, Grasshopper, Griffin, King Crab, Kit Fox, Kodiak, Linebacker, Mad Dog, Mauler, Panther, Rifleman, Roughneck, UrbanMech, Uziel, Victor, and Wolfhound.
23 Chassis out of 93 can now equip Bolt-ons! ( 24.7% for those of you counting)
Please look forward to more 'Mechs getting Bolt-on support and more Bolt-on styles in every patch!
ALSO, New Bolt-ons have been added!

Check out this screenshot of the Rifleman with the Ghillie Bolt on! He looks just like a tree!
Please Note: Not all 'Mech variants can equip all Bolt-ons. Please verify the 'Mechlab to see specifically which variants are supported.

Gameplay Tuning
Solaris Division Design notes: While in a typical Solaris Season, we would not be looking to make any form of divisional changes Mid-season, however with this being our inaugural Solaris season, we wanted to quickly address a handful of outliers that cropped up over the first month to ensure that the opening season remains fun and engaging throughout its duration.
Divisions are set up with a variety of 'Mech types present and typically we want players to be able to experiment and develop counter-strategies to popular 'Mechs on their own. While there are a handful of divisions that accomplish this as intended, we felt that there are a few outliers in the inaugural season that are performing a bit too far above the curb as they were suffocating the amount of viable 'Mech choices within their previously assigned divisions. In these cases, we have migrated those outlier 'Mechs into higher divisions.

In addition to this, we feel that there is a handful of sub 50 ton 'Mechs that are punching a bit too high above their weight. Taking this into consideration, we are bringing a number of Lights a bit further down to hopefully provide them with a bit more of a level playing field and to provide a few lighter lower tonnage 'Mech options at lower division levels. The overall distribution of lights will still see them occupy multiple different divisions as there are many still performing adequately within their currently assigned divisions.
SOLARIS DIVISIONS https://mwomercs.com/s7-mech-divisions

Structure / Max - Armor Redistribution:
The following 'Mechs have had some of their Arm Structure and Max Armor Points re-distributed from their Arm Locations into their Torso locations:
Jenner

Jenner IIC

Cicada

Jagermech

Stalker

All 'Mechs in a player's inventory affected by this change will have their armor re-set to the stock values.
PLEASE CHECK YOUR 'MECHS BEFORE YOU DROP!
In the event that the stock values would render the 'Mech over tonnage, the 'Mech would be flagged as an invalid build. Both of these can be manually re-adjusted in the 'Mechlab.
Structure / Max Armor Redistribution Design Notes:
All 'Mechwarrior games have attempted to honor as many of the core mechanics found in the very descriptive Battletech Universe as possible. But sometimes these mechanics do not translate well into the First Person Simulation setting. Among those mechanics are the core structure/armor distribution rules and how that relates to the 'Mech art. In Battletech, there is never a distinction between individual body locations and the art that represents them. Within those game environments, the chance to hit an arm location is always equal, regardless of how the art depicts the 'Mechs. And as such you are just as likely to hit the arms on a Jenner as you are the arms of a Mandrill. This is something that simply does not translate one-to-one into a 3D Shooter environment. As such, many 'Mechs depicted in the Battletech universe as having very short and stubby arms often, as a result, see overall larger torso geometry, as well as having hit locations with a pool of health much greater then they need to before they often find their torso's being destroyed within the context of MechWarrior Online. So while a Jenner in the Table Top game may see 28% of hits go to arm locations, while 47% go to torsos, In our game, this could be skewed as only 20% of hits go to the arms, and 55% of hits go to the torsos when accounting for the physical shots against the 'Mech model's art.
We want to see an improvement to this to assist those 'Mechs that often do see their art come with very stubby appendages that often leads to more prominent torso locations while staying true to the overall structure and armor distributions depicted within the Battletech Lore. In the 'Mechs above, we are shifting a number of their base arm structure points from the arms and into torso locations and with it, their total available "Max armor." For this initial roll-out, we are only going to alter five 'Mechs across all weight classes that have seen smaller arms result in larger torso locations. Each of them has had their structure and armor re-distributed in a way that best compliments the needs of the physical 'Mech geometry while maintaining the same overall health pool. We will be monitoring this change closely and will consider other 'Mechs getting a similar treatment to them in a future patch depending on the impact of this change on the targeted chassis'.
Skill Tree changes:
Survival Tree
Reinforced Casing -

Increased Benefit to -1.5 per node (from -1)
Mobility Tree
Anchor Turn - Increased per-node benefit to 6% (from 5%)
Torso Speed - Level out all benefits to 5% per node across all weight classes.
Skill Tree Design Notes:
With Reinforced Casing, we want to nudge the benefits provided by this node up a bit. It's important to note that because crit boosted weapons such as Machine Guns, and LBX AC's rely on critical hits to produce their boosted damage, this node specifically reduces the frequency of those said critical hits, and does reduce the overall average damage those weapons do to internal structure due to reducing their chances for critical hits.
For the mobility tree, we wanted to boost some of the turn rate benefits a bit more to further reward those that choose to invest in them.
Weapon Changes:
Ballistic Changes:
Rotary AC/2:
Damage increased to 0.9 (from 0.8)

Jam bar safe time increased by 33%
Rotary AC/2 Design Notes:
We want the RAC/2 to occupy a slightly different niche compared to the RAC/5 since competing for the same upfront DPS output will always just result in one weapon outshining the other no matter what they were tuned to. Instead, we want the RAC/2 to be more focused on more reliable sustained damage for a lower heat cost as well as other attributes such as longer range and less projectile spread with these changes more overall sustain through a larger window to fire the weapon without the risk of jams. While we are still increasing the damage slightly, the RAC/5 will still be focused on more upfront damage, but at the cost of some attributes that are superior on the RAC/2, while the RAC/2 will allow for more consistent damage across a longer duration, with a much lower heat curve. Allowing for either paired weapons, or longer individual sustain compared to the RAC/5.
Energy Changes:
All Clan Laser Changes are removed.

'Mech Quirks:

Banshee:

BNC-3E: Receiving a new Armor Bonus CT: +10 quirk
BNC-LM: Receiving a new Armor Bonus CT: +10 quirk
Banshee Design notes:
Since Solaris, we have noticed the amount of CT cores on the Banshee line is a bit higher then we want it to be. We are taking the CT bonus found on the Siren and distributing it to the two Banshee variants that at this point do not have CT armor quirks.
Annihilator:
ANH-1X: Torso Based armor quirks being reduced by -5 in each location.

ANH-2A: Torso Based armor quirks being reduced by -8 in each location.

Annihilator Design Notes:
While we have provided the Annihilator with durability quirks to account for its low speed and relatively low mounts, we feel that a handful of variants of the 'Mech simply do too much on their own without the need for teammate support. Coupled with the ability to completely lock down 1v1 combat on a single variant is also something that we feel that no individual variant should be able to achieve to such a great degree over all other alternatives. We want the Annihilator's core attributes to revolve around its devastating arsenal and being able to keep a blistering amount of sustained firepower as a threat, but we don't want their defensive properties to become their headlining feature, since this combined with its high hardpoint count leaves many other 'Mechs struggling to compete with it. For now, we are only focusing on the outliers, but we are keeping a close eye on all variants for similar trends.
Atlas:
Center torso Armor and structure quirks reduced and re-distributed to the side torsos on all Atlas Variants.

Amount distributed varies from variant to variant.

Atlas Design Notes:
While we don't want to increase the amount of raw HP the Atlas brings, we do want to ensure that the quirks that it is given are distributed in the best way. We feel that in the Atlas' case, this involves taking a bit from the CT and re-distributing to the side torsos to give a bit more durability to the often targeted areas, while still keeping the core CT durability intact.
Fafnir:

Side Torso Armor quirks reduced by 3 each and redistributed to the Center Torso for all variants.

Fafnir Design Notes:
Much like the Atlas changes, we are satisfied with the total HP pool the Fafnir has, but want to make sure the quirks given to it are distributed in a way that best benefits the 'Mech's geometry.
Madcat Mk. II:
MadCat MKII yaw changes removed.


Bug Fixes, Art Fixes and Weapon Retro-Fits.
Weapon Retrofits:

All Spider Variants in-game

All Shadow Hawk Variants in-game

All Roughneck Variants in-game

All Rifleman Variants in-game
Art Fixes:
Solaris Feature Improvement - Add Solaris Maps to Testing Grounds

Grim Plexus - Domination - Adjust spawns, capture point, and generator locations

Rubellite Oasis - Mechtrap in F6 fixed

Private_1v1_c - Liao Jungle - Removed some unnecessary shadows to improve performance

Private_1v1_b - 'Mech Factory - Adjusted upper light sources to improve visibility

Feature Improvements / Bug fixes
Feature Improvement - Prevent Player from Viewing Leaderboards When Old and New Tables are Being Swapped

Solaris Feature Improvement - Commentator voiceover trigger adjustment - Start of Match Elo

Solaris Feature Improvement - Add more voiceover lines to Solaris 1v1/2v2 Game Mode

Solaris Feature Improvement - FE - Add Supply Cache Button to Solaris Home Screen

Solaris Feature Improvement - FE - Add a Testing Grounds option in the Solaris 7 area

Solaris Feature Improvement - Global Leaderboard should use average

Solaris Feature Improvement - VS screen should replace "Player 1" & "Player 2" with usernames

Solaris Feature Improvement - Lower Elo to 1600 1700

for Spectate Match Watch List



Solaris Feature Improvement - The Solaris Queue Timer is being increased from 60 to 180 seconds to allow a better level of clustering in each division.

Solaris Feature Improvement - Increase Base Payouts for Solaris Matches

Changed Solaris Division assignments for various 'Mech variants(Changes can be seen here )

Patch Files (Direct Download)
To make the patching process easier for players with limited download caps, we'll be providing direct download links for the patch file(s) that comprise this patch. This will allow you to download the patch file(s) elsewhere, for manual injection into the MWO patcher through a Patch Cache folder.
Aside from allowing you to download the patch file(s) elsewhere, on another connection, there are no additional benefits to performing the patch this way; the patching process itself will be the same.
This direct patch download process will only work for players running the standalone client. It does not apply to players running MWO through Steam.
Patch File(s):
How to use these patch files
• Download the above file(s)
• For sake of ease, we recommend creating a dedicated folder for the patch file(s), such as 'MWO Patch Cache'
• You do not need to unzip or unpack the patch file(s)
• Launch the MWO Portal
• Select the three horizontal lines in the top left of the Portal Window
• Choose the 'Set Patch Cache Directory' option
• In the field that appears, paste or enter the location in which you saved the patch file(s) and hit OK
• For example, C:\Users\<username>\Documents\MWO Patch Cache
• Click the Patch button
• The launcher will now check the Patch Cache folder you defined. If it locates the required patch files, it will unpack and use those files to apply the patch.
• Once the patch is complete, launch the game