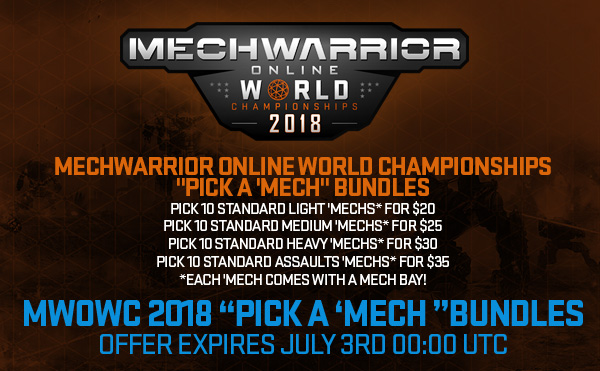 NEW MECH BUNDLES!
MechWarrior Online World Championships "Pick a Mech" Mech bundle
Ends: July 2nd 5 pm Pacific (July 3rd 00:00 UTC)
*Each 'Mech Comes with a Mech Bay!
The mechs available will be the Standard version of the mechs eligible for the Tournament!
All selected 'Mechs include one 'Mechbay
Content will be injected into eligible accounts every hour on the hour.
PLEASE NOTE A PLAYER CAN ONLY PURCHASE THIS BUNDLE ONCE AND ALL SALES ARE FINAL.
This means players should be careful when making their 'Mech Selections as Support will not be able to replace any 'Mechs after the purchase has been completed