or just delayed reaction ...
before I begin I would like to state that I'm not an statistician or analyst and what follows is not 100% accurate
Tuesday, the 30th, I got this idea about monitoring the number or players that registered since Open BETA (a.k.a. OBT) and since the number of active players in the game was removed (I will not discuss the reason), the only way was to monitor the number of total accounts created
1st I had to verify that a new account is also given automatically a forum account, I did and it's verified.
I know it's 1 day late, but still ..
Also note that I didn't collect the data on regular intervals.
Starting on 30th 5PM my local time (GMT+2), the number of total users was 386256; to the moment of posting this, the number is 393378.
From that day, there are 7122 new user accounts created.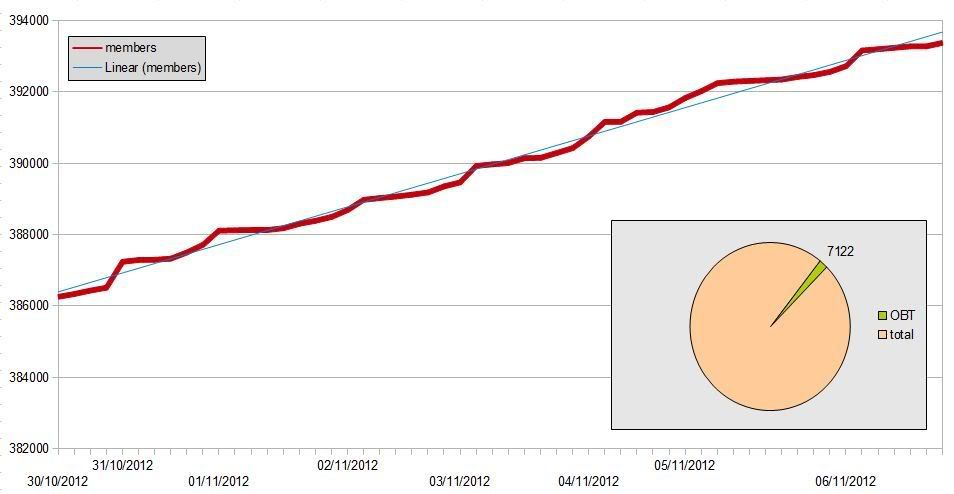 Now the growth per day is as follows, starting day 2 obviously:
983

873

576

777

1285

1082

892

654 (at the time of posting)
you can see a somewhat substantial increase during the weekend
this is how it looks from a daily perspective:
(note: slight mistake from me, image reposted with correct data/day)
What do I make from all of this? two things:
MWO OTB was launched prematurely

PGI and IGP created a hype around the game and at the launch of the global open beta it did not lived to expectations.
The 1.81% that account for the users created since OBT started, from the total of accounts, is the sword MWO fell into.
I would not comment on what sould've been done differently or what PGI/IGP should do from now on, the damage is done and they need to "fix" it;
damage control mode ON
Today is the patch day, and hopefully some of the issues will get addressed, and also maybe interest in the game will rise.
This is why I will continue to monitor the number of user accounts; I will return in 1 week with another batch of data collected starting today.
If you find an irregularity or have some comment, please do tell.
[15.11.2012]
by the time I'm done posting this it's already the 15th for me
so .. I'm back with a new batch of data gathered from 6 (completing the day) to 15 of this month
Nr of accounts to date are 399674, out of which 13418 were created since OBT launched - they now account for 3.36% of total registered users

the number of new accounts created / day, starting with day 2 (30th of Nov) are as follows:
983

873

576

777

1285

1082

892

976

936

800

727

873

846

638

610

544
the numbers of new accounts created / day is "going down" and despite what Mr. Russ Bullock said in the N.G.N.G. podcast, it doesn't look encouraging at all
maybe this is the real reason for pushing 3rd person view?!
also you can notice that today (well yesterday for me) we hit a new low in nr of registrations
Edited by zmeul, 14 November 2012 - 02:16 PM.