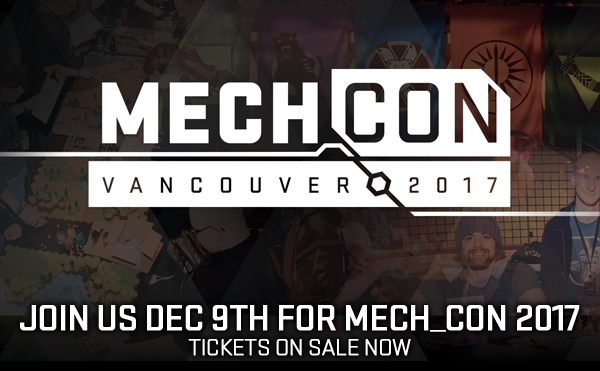 Mech Con 2017 details begin to emerge!
We wanted to keep you up to date on Mech_Con 2017 News.
Check out the first details here, buy your tickets, and book your hotel!
ALSO
Here are some fun facts from the Mech_Con Survey we did!
243 of the survey participants attended Mech_con 2016
763 people plan to attend Mech_Con 2017! -
(better buy tickets soon)
Everyone's favorite element of 
Mech_Con 2016?
#1 - MechWarrior Online World Championships Finals! 
#2 - The Presentations! ( and the MW5 Reveal)
#3 - Meeting fellow MechWarrior and BattleTech fans as well as the Devs!
Where are People Traveling from?
#1 North America
#2 Europe
#3 Australia
#4 I'm Local! (Van BC)
looks like we will have people coming from all over the globe including:
Asia, South America, and Africa!
Mech_Con is truly a Global Event!
Overwhelmingly people wanted the event on the weekend.
Dec 9th is a Saturday.
and those who can't attend can watch and engage us on Twitch!
We have all your suggestions and are working to make this year's Mech_Con worth
Traveling, Watching, and Staying up all night for!
More Engagement, More Fun, More Fans, More Hype, More Everything!
and yes we will fix the music on the stream :)