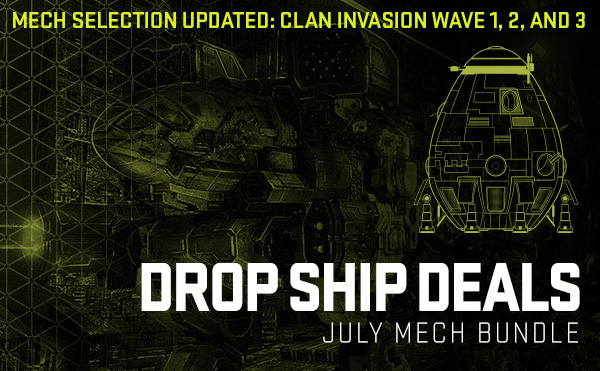 DROPSHIP DEALS ON CLAN INVASION WAVE 1, 2, and 3 STANDARD VARIANTS!
JULY PICK-A-MECH BUNDLES
Dropship Deals - The "Pick a Mech" bundle for the Month of July
Starts: NOW!

Ends: August 3rd 00:00 UTC

Clan "Pick a Mech" Options
Pick 10 Standard Light 'Mechs* for $25

Pick 10 Standard Medium 'Mechs* for $30

Pick 10 Standard Heavy 'Mechs* for $35

Pick 10 Standard Assaults 'Mechs* for $40

*Notes
Mechs are injected every 15 minutes

each mech comes with a Mechbay

you can do multiple purchases

VISIT THE BUNDLE PAGE TO PICK YOUR MECHS!
Lights
Mech - ADDER ADR-A

Mech - ADDER ADR-B

Mech - ADDER ADR-D

Mech - ADDER ADR-PRIME

Mech - KIT FOX KFX-C

Mech - KIT FOX KFX-D

Mech - KIT FOX KFX-G

Mech - KIT FOX KFX-PRIME

Mech - KIT FOX KFX-S

Mech - MIST LYNX MLX-A

Mech - MIST LYNX MLX-B

Mech - MIST LYNX MLX-C

Mech - MIST LYNX MLX-D

Mech - MIST LYNX MLX-G

Mech - MIST LYNX MLX-PRIME

Mech - ARCTIC CHEETAH ACH-A

Mech - ARCTIC CHEETAH ACH-B

Mech - ARCTIC CHEETAH ACH-C

Mech - ARCTIC CHEETAH ACH-E

Mech - ARCTIC CHEETAH ACH-PRIME

Mediums
Mech - ICE FERRET IFR-A

Mech - ICE FERRET IFR-B

Mech - ICE FERRET IFR-C

Mech - ICE FERRET IFR-D

Mech - ICE FERRET IFR-P

Mech - ICE FERRET IFR-PRIME

Mech - NOVA NVA-A

Mech - NOVA NVA-B

Mech - NOVA NVA-C

Mech - NOVA NVA-D

Mech - NOVA NVA-PRIME

Mech - NOVA NVA-S

Mech - STORMCROW SCR-A

Mech - STORMCROW SCR-B

Mech - STORMCROW SCR-C

Mech - STORMCROW SCR-D

Mech - STORMCROW SCR-PRIME

Mech - SHADOW CAT SHC-A

Mech - SHADOW CAT SHC-B

Mech - SHADOW CAT SHC-H

Mech - SHADOW CAT SHC-P

Mech - SHADOW CAT SHC-PRIME

Heavy
Mech - SUMMONER SMN-B

Mech - SUMMONER SMN-C

Mech - SUMMONER SMN-D

Mech - SUMMONER SMN-F

Mech - SUMMONER SMN-M

Mech - SUMMONER SMN-PRIME

Mech - TIMBER WOLF TBR-A

Mech - TIMBER WOLF TBR-C

Mech - TIMBER WOLF TBR-D

Mech - TIMBER WOLF TBR-PRIME

Mech - TIMBER WOLF TBR-S

Mech - HELLBRINGER HBR-A

Mech - HELLBRINGER HBR-B

Mech - HELLBRINGER HBR-F

Mech - HELLBRINGER HBR-P

Mech - HELLBRINGER HBR-PRIME

Mech - EBON JAGUAR EBJ-A

Mech - EBON JAGUAR EBJ-B

Mech - EBON JAGUAR EBJ-C

Mech - EBON JAGUAR EBJ-D

Mech - EBON JAGUAR EBJ-PRIME

Assault
Mech - WARHAWK WHK-A

Mech - WARHAWK WHK-B

Mech - WARHAWK WHK-C

Mech - WARHAWK WHK-PRIME

Mech - DIRE WOLF DWF-A

Mech - DIRE WOLF DWF-B

Mech - DIRE WOLF DWF-PRIME

Mech - DIRE WOLF DWF-S

Mech - DIRE WOLF DWF-W

Mech - GARGOYLE GAR-A

Mech - GARGOYLE GAR-B

Mech - GARGOYLE GAR-C

Mech - GARGOYLE GAR-D

Mech - GARGOYLE GAR-E

Mech - EXECUTIONER EXE-A

Mech - EXECUTIONER EXE-B

Mech - EXECUTIONER EXE-C

Mech - EXECUTIONER EXE-D

Mech - EXECUTIONER EXE-E

Mech - EXECUTIONER EXE-PRIME