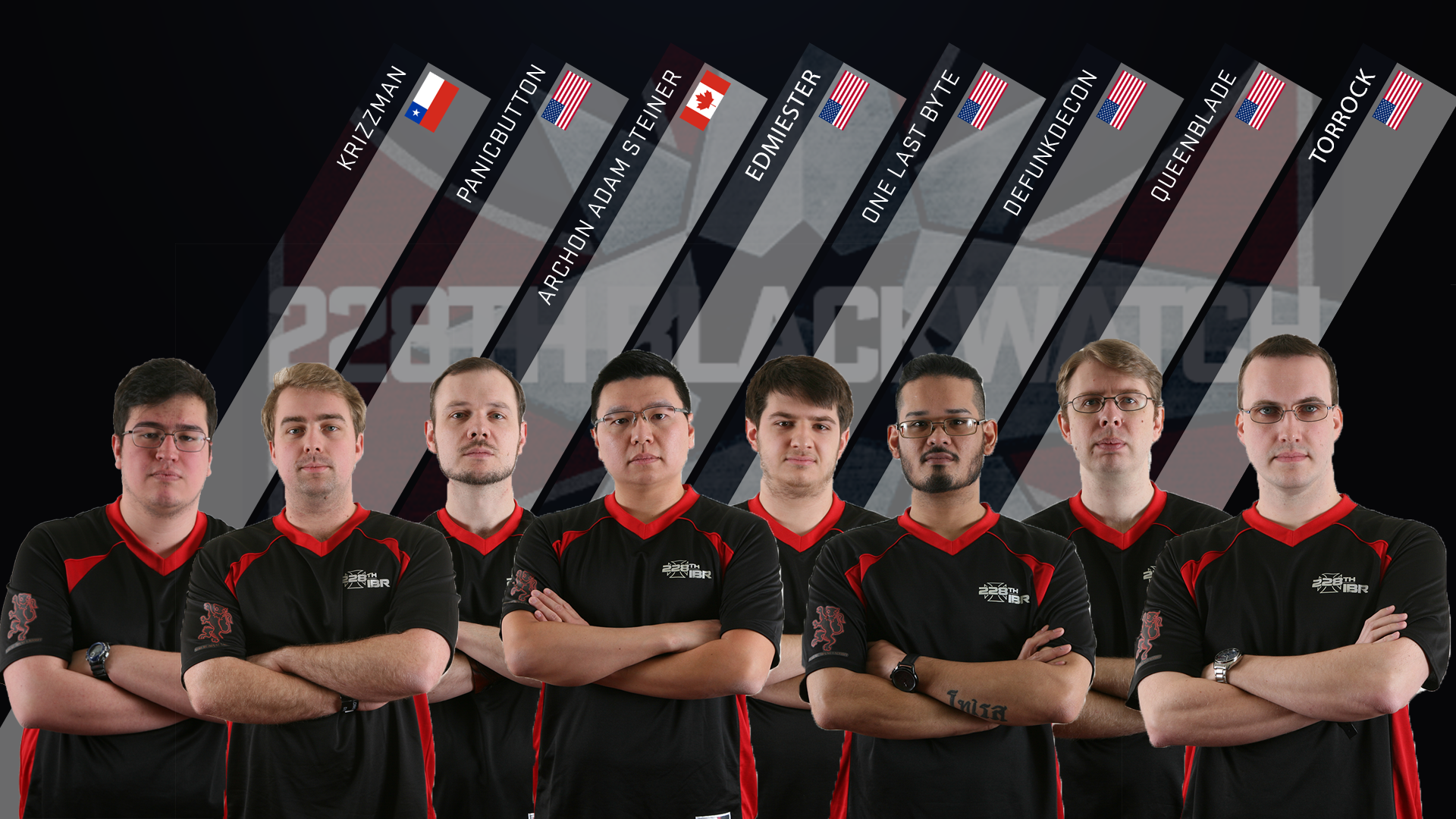 Congratulations to 228th Black Watch for making it to 3rd place in the MechWarrior Online World Championships 2017. The full team of 12 came to Vancouver for the first time, competing at MechCon 2017 against two returning finalist teams. 228th Black Watch prevailed to show us true sportsmanship during the entire Finals at MechCon 2017.

Words from the Shout-Casters:
"228 really went into the finals looking to change things up. They may have recognized that statistically, they didn't match up well with their competition in the final rounds. We saw them bring mechs they hadn't ever played before, and they were more aggressive in their initial movement than either EON or EmP. Unfortunately, that aggression rarely lasted throughout the duration of their matches. For the drops where they remained aggressive, they won. Too often they let themselves get bogged down, and it cost them."
-Mdmzero0
"228th IBR Black Watch has a lot of potential as a top 3 team. They have been seemingly very hot or very cold during the World Championship. If they can improve on their consistency going into next year, I have no doubt we will see Black Watch on the main stage again."
-Bandit B17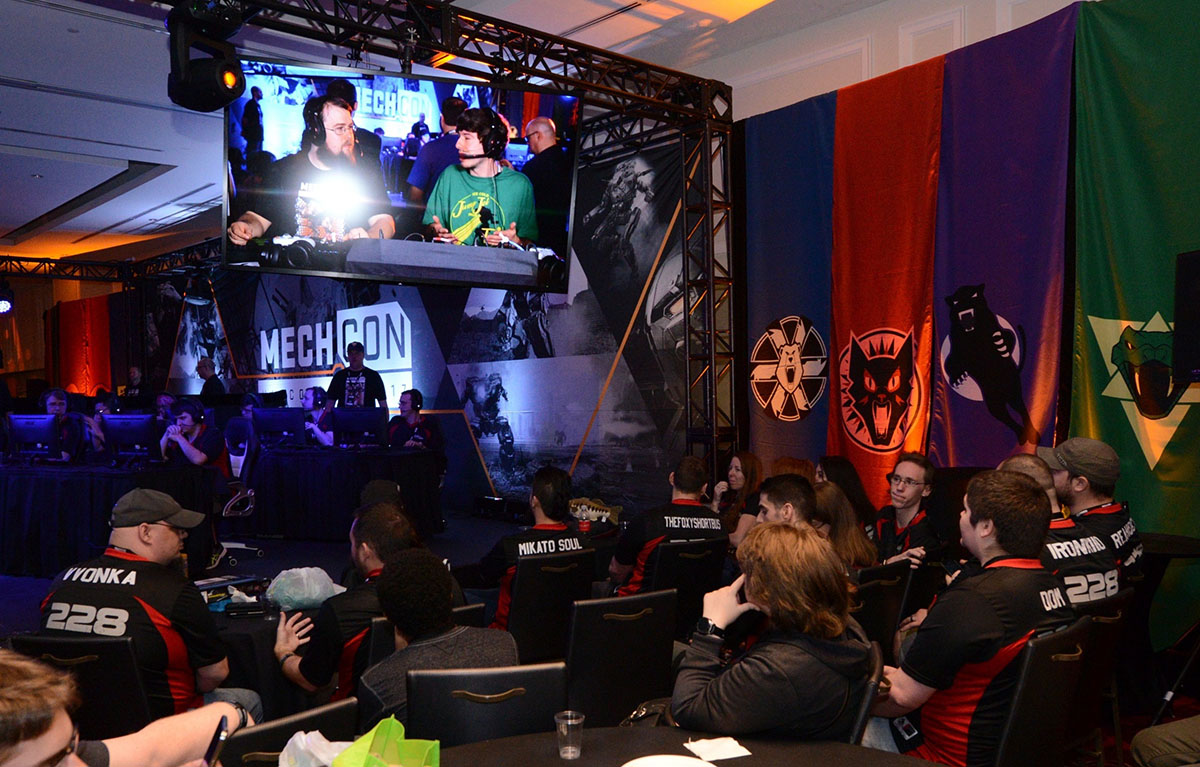 Words from the MWOWC 2017 Referees:
"Of all three teams, the 228th seemed to have the most fun. Even after a loss, nobody was blaming one another, they were all smiles and made sure to go to the other side and shake hands instead of letting the other team come to them. Sure, there were heated moments but they passed just as fast as they arose, and were born more out of a desire to help the team learn and do better the next match rather than tear down or shame anyone. In addition, they seemed to have some of the best fans. When a great air strike hit there was a cheer, when one of them went down you could hear the crowd let out a collective sad ohhh."
-MechCon Finals Referee
"
The most visible of all the teams with their colors and their own support group. It was refreshing to see the team support passed onto the competitors. They had a lot of heart going into the finals and did their best. Being the first to be eliminated they still remained positive and thankful for being in the finals."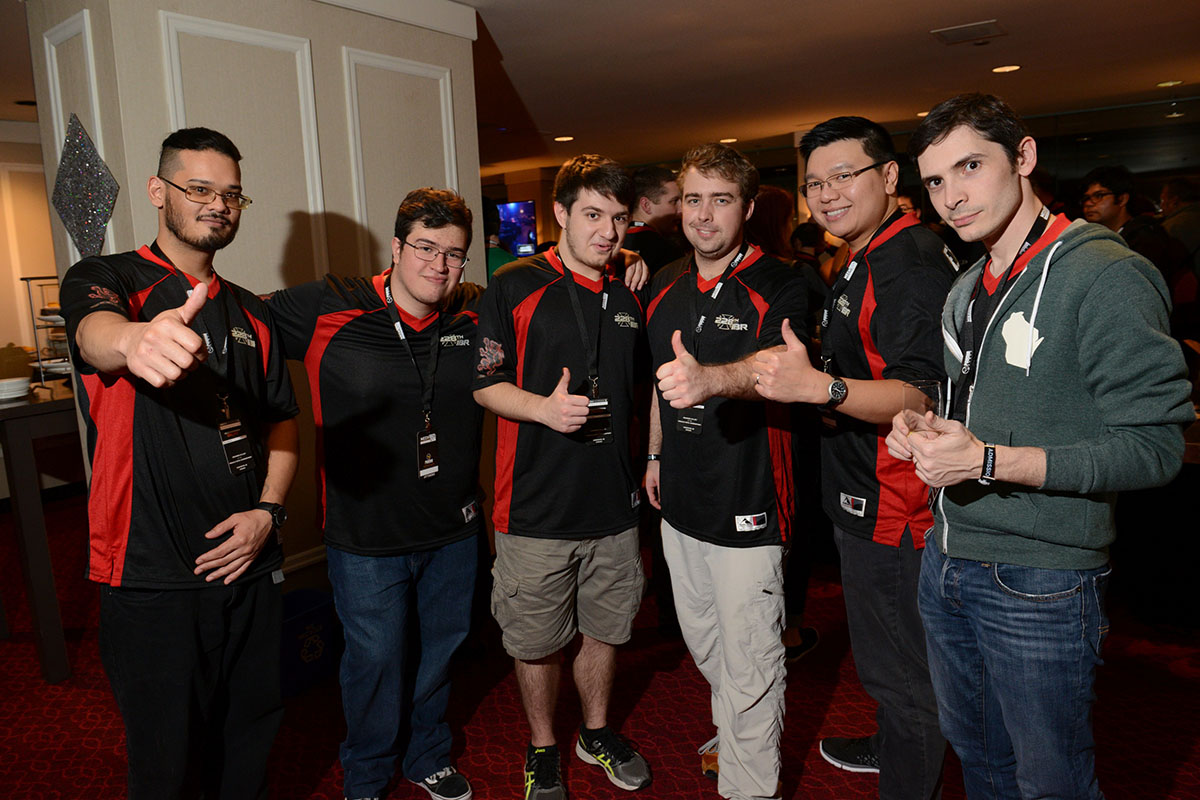 Fun Team Fact:
228th Black Watch is a top team among other teams found in the very large MechWarrior Online unit known as 228th IBR. This unit has about 180 members and 5 teams within it, 3 of which are North American, 1 European and 1 Oceanic.  The Oceanic "Wild Ones" were last year's 3rd place finalists.  This unit is all led by a MechWarrior named Deadfire, who is also known as "Dadfire" to the members of 228. (Deadfire can be seen sitting in the following image below.)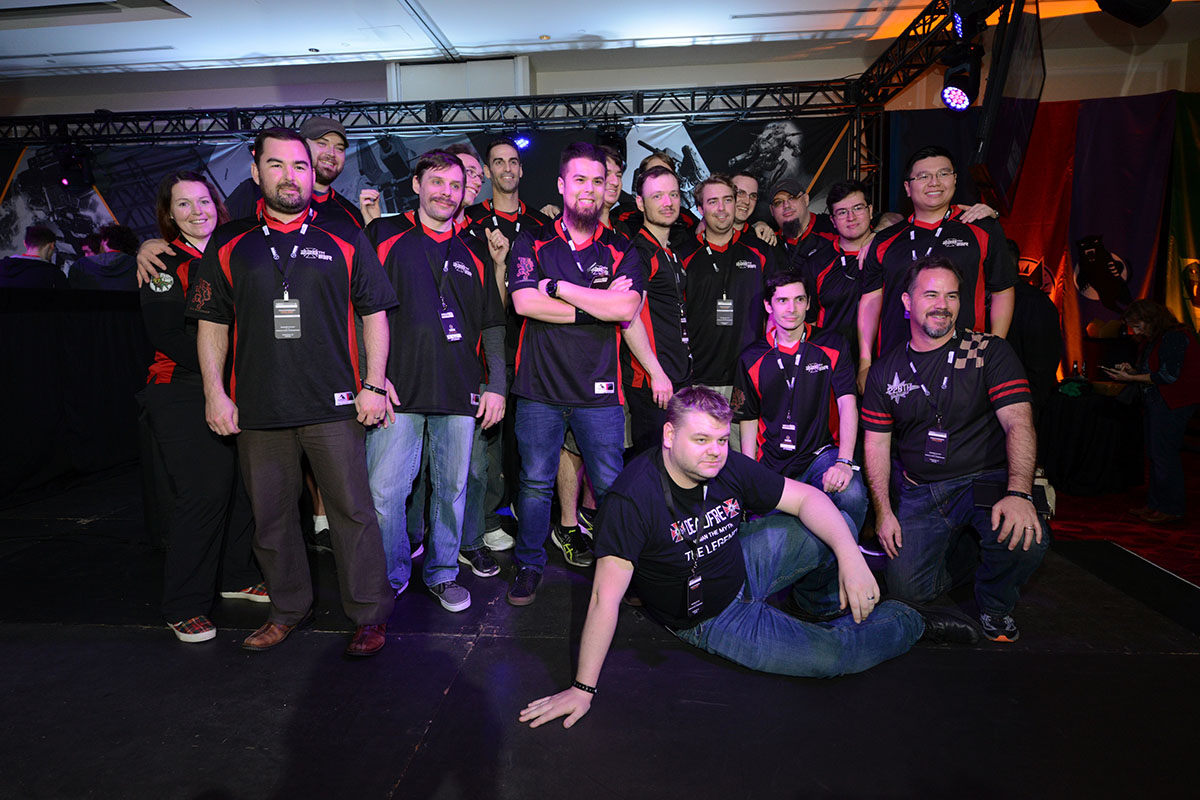 Words from the 228th IBR Leader:
"The 228th is like my second family, for better or worse.   Four long years of dealing with their shenanigans has given me grey hair and more than a few headaches, but I'm far from wanting out.  On the contrary,  I want to see more than one 228th team make it to Vancouver in a single year so we can have an even bigger party.  We've endeavored to build a unit here based on strengths of character, and I think that showed at Mech Con.  We do have ambitious goals and the drive to achieve them, but at the same time, we refuse to forget how to be friends and have fun."
Words from the 228th Black Watch Team Captain:
"I think this year's finals proved a great experience, full-stop, as well as provided invaluable competition experience for us to build on as a team.  We managed to fly our entire roster up to Vancouver a day or two early and made the most of having everyone together.  We enjoyed a tour of the PGI studio on Friday before convening for dinner at a local teammates' house where our resident 228th chef cooked up some killer fajitas for everyone.  On Saturday, these guys were ready to go an hour before the doors opened and stayed motivated clear through our last match.  Even after our final round, no one said anything about mistakes or flaws in the strategies.  Everything was about, "What do we do to improve for next year?".  I couldn't ask for a better team than that.
I also want to take a moment and specifically thank the wives, girlfriends, and other +1s who came to support the team and dedicated the time to keep us all organized.  I would also like to give a hearty shout-out to the 228th Swamp Foxes, who were game-and-able practice partners during the lead-up to the Finals."
-Panicbutton
During MechCon, the Black Watch had cheer-leading members from the 228th IBR unit where many of them could be 
seen sitting next to the stage cheering them on.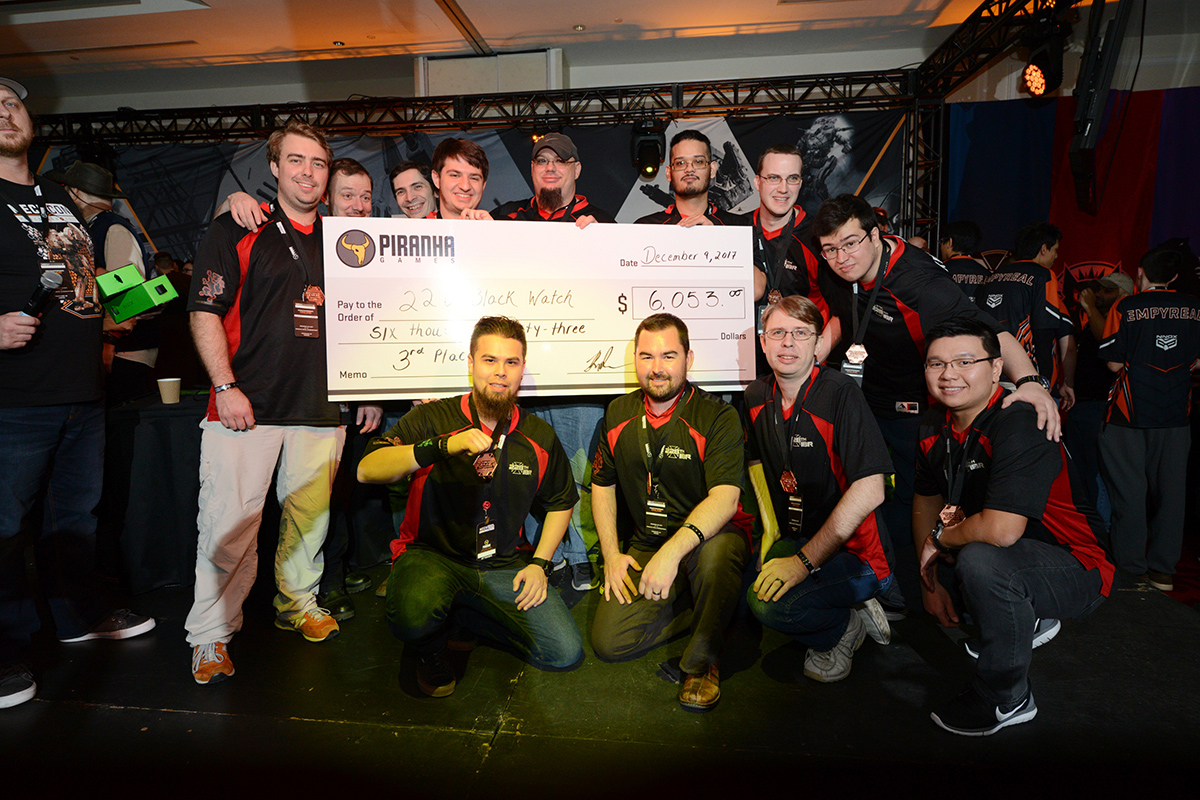 What they returned home with:
- $6,053 USD (10% of the Prize Pool) split across the team
- 8 Razer Chroma Mouse and Mouse Pads
- Team Custom MWOWC2017 Bronze Warhorn
- Team Custom Decal
- Team's full name Decal
- Bronze MWOWC2017 Title
- Bronze  MWOWC2017 Badge
- Bronze MWOWC2017 Trophy Cockpit Standing Item
- Bronze MWOWC2017 Medallion Cockpit Hanging Item
- 5 Mechbays per player
- 40,000,000 C-Bills 
per player
- 3 Ultimate tiers from their choice of Mech Pack(s) 
per player