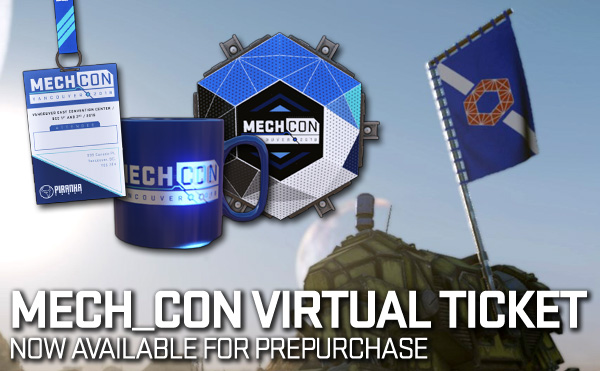 Mech_Con Virtual Ticket Prepurchase is here!

FAQ
When do Mech_Con Attendees get their Mech_Con Virtual Content?
Mech_Con attendees will receive a redeem code upon check-in at Mech_Con.
Redemptions will be available starting  Nov 30th.
It can take up to an hour for content to be added to your account after redemption. Please be patient
When do Virtual Ticket Purchasers get their Virtual Ticket Content?
Virtual Ticket Purchasers content will be injected into their accounts on Nov 30th.
When will you stop selling the Virtual Ticket?
Mech_Con Virtual Ticket Sales will stop on Dec 14th 00:00 UTC
How many Flags do I get?
You will have 303 Flags in your inventory*
3 for each Chassis available in the game.
What if I don't own every Chassis?
You're doing it wrong! Poke Mech, Gotta catch 'em all!
Seriously tho' 
they will still be in your inventory. (3 per supported Chassis)
When you purchase a supported chassis you will be able to equip them from the bolt-on menu!
*Please note the Mech Con Bolt on Flag will not be available for the Hatimoto Chi and Charger until the December 11th after the Patch.
Anyone who had redeemed or purchased before then will have the Flags added to their account on that day.
How Many Cockpit Items do I get?
Mech_Con Mug Standing Item x 18

Mech_Con Attendee Badge Hanging Item x 18

Mech_Con Mounted Warhorn x 18

Why 18 of Each Cockpit Item?
Because this is Mech_Con 2018
What does the Warhorn Sound like?
Boop Beep Beep Beep Beep Boop Beep Beep Beep Boop BZZZZZZZT
Or something like that. We will post them on SoundCloud SoonTM.
Will there be any more content added to the Virtual Ticket?
Will any of this Content end up in the Tournament Supporter Pack?
TBD.
Does this count to any level of the 2018 Annual Rewards Program?
Unfortunately no. 
As this is also part of the Mech Con Ticket and Mech Con tickets are sold on an external site.  Also, redemptions for mech con attendees happen past the Rewards Program cut off.  
There currently isn't a way to make this count for the rewards program
Do I need a virtual ticket to watch the Mech_Con stream?
No. The Mech_Con stream will be live on twitch for all to see.
The "virtual ticket" is for players who are unable to attend but would still like to have the Mech_Con Content associated with the attending.